Here's a wakeup call. With much of the best beef in the country raised right here in Kansas, especially in the Flint Hills region, why not dine at an establishment the Kansas Beef Council twice named the best beef restaurant in the state? The Grand Central Hotel and Grill in Cottonwood Falls uses only a special brand of premium choice beef certified by the U.S. Department of Agriculture for its superior marbling. This marbling, coupled with the meat being aged for 21 days, gives the beef its rich flavor and juiciness. The steaks are cut to order, seasoned with a secret mix of spices, and grilled to your liking. I made a reservation and ordered the popular Grand Angelo, a small filet served with mushrooms and shrimp in garlic butter. It was, well, truly grand! [[endteaser]]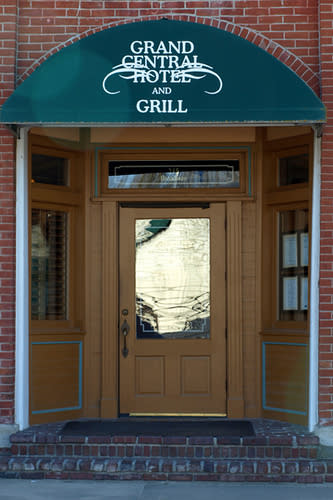 Besides several steaks, there's a hearty steak stew, a beef kabob, prime rib, steak quesadilla, and a variety of hamburgers on the menu. In fact, the Beef Council recognized the Grill's Prairie Burger and the BBQ Bleu Burger as best ground beef menu winners. But if you have a beef with beef, the Grill also is known for its eggplant parmesan, creamy chicken salad, and pork tenderloin. Check out the thick Ranch Hand onion rings appetizer, original cranberry vinaigrette on your salad, and the Grand Central Crème Brulee for dessert.

Dining here gives you a taste of the Old West in more ways than one. The hotel's original brick walls from 1884 are revealed, and some of the flooring is of brick from the Kansas City stockyards. Mounted longhorns and a buffalo head, a collection of arrowheads, and paintings of cattle hang on the walls. Longtime brands from Chase County ranches are burned into the bar. In fact, you can get an extra helping of history by spending the night in one of the hotel's 10 guest rooms, each named for a ranch in the area deemed worthy by local historians.

In what restaurant is your favorite steak or beef dish served?




I cooked up the idea of making a career combining my love for writing, eating, and traveling after my sons were born. I grilled my friends living in other parts of the state about their favorite restaurants, and some of those establishments eventually became the topic of my Historic Restaurant series, and later the Tastes column, published in KANSAS! magazine. I simply enjoy the adventure of discovering great food found at unique restaurants, small-town grocery stores, and farm-based processors throughout Kansas, and then sharing what I've learned with you.