The culture and attitude of the Kansas gravel cycling community is truly fun and welcoming – more so than any other strata of the cycling world. You could finish the Dirty Kanza in 81st place with more fanfare than placing 1st in most road races. There is always someone riding your speed, someone to talk with and someone to cheer your accomplishment when you finish. Sure, there's a race going on if you want to go for the win, but gravel events are much more than that. Lots of Kansas-area events have nice "finisher rewards" such as medals, patches or the much-coveted event pint glass. It's fun making new friends on the road as you click off the miles. Conversation often starts on the ride and because you bonded on the bike it usually moves to a post-event recap and may even continue on social media and on to the next ride or event. Keith Walberg, an avid Kansas cyclist and six-time finisher of the Dirty Kanza 200, shares his tips and tricks for a great gravel experience in Kansas.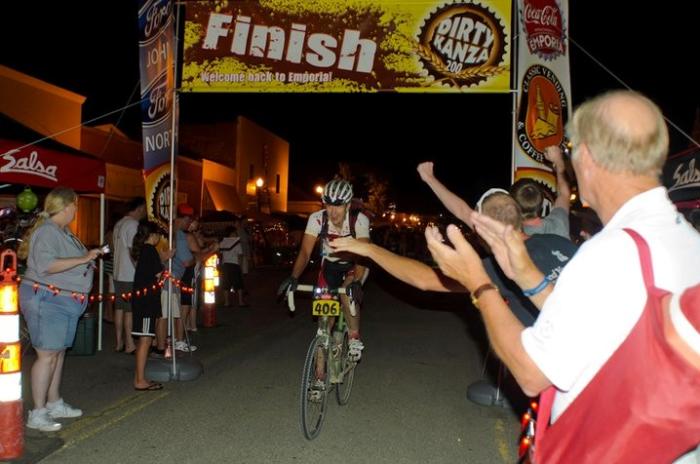 I used to compete in a lot of road races, but I migrated to the gravel scene because the vibe is more fun. I also feel that riding gravel is a little safer than road riding, especially when training alone. I often ride miles of gravel southwest of Topeka and only encounter one or two cars. For me, it's peaceful and like meditation.
Kansas is a hotbed for gravel cycling. The Dirty Kanza 200 is famous worldwide – considered the Super Bowl or World Series of gravel cycling events. You can find gravel races on KansasCylist.com, BikeReg.com or through a Facebook Events search for gravel races in Kansas. Here are a couple of notable Kansas gravel grinders that are on my radar:
The Bleeding Kansas Gravel Duro - Manhattan
Cool Hand Luke Gravel Grinder - Leavenworth
Gravelleurs' Raid - Lawrence
Grassland Grind - Council Grove
Pony Express 120 Gravel Dash - Marysville
Lunar Kanza - Emporia
Wicked Wilson 100 - Wilson
Gravel Ride for Maisie's Pride - Eskridge
Once you select a gravel grinder to participate in, be sure to come prepared. Give the event considerable advance thought. Many events offer distance options, ranging from 25 to 100+ miles. Choose a challenging distance you think you can do. If you've never ridden 100 miles on gravel, consider starting with 50. Prepare your bike and think about what you will carry with you in advance. What's the weather forecast? Give yourself as many clothing and gear options to have as great a day as possible. Many events have a drop-bag option at the half-way point, and most people bring food and drink to get them through to the end. And don't forget about a change of clothing or tools you might not want to carry on your bike. During one especially challenging gravel grinder, I put an extra pair of gloves in my drop bag. It was cold and wet, and everyone around me wished they had thought to pack extra gloves. Obvious things are basic bike tools like Allen wrenches and a flat tire repair kit. Consider sunscreen, lip balm, maybe a small bag with aspirin or Ibuprofen. Invest some time considering what items will help you finish the event and how you'll pack them.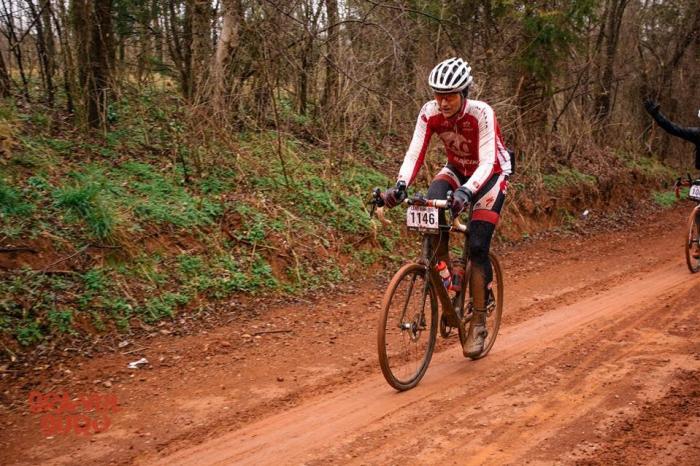 Mental preparation is also key. When I'm training for the DK 200, I keep reminding myself I'm going to be pedaling my bike for 14-16 hours. If it gets hot or windy or muddy, it could be longer. Making sure you are in the right frame of mind is crucial.
I recently rode the Open Range Gravel Race in Pratt, which offered 100- and 200-kilometer options. I chose the 200. Pratt is west of Wichita and an easy drive via highway 400. The event offered a pre-race check-in the evening before at Legends Pub and Grill in Pratt – a local eatery and event sponsor. Whether you're from out of town or live nearby, I recommend attending the pre-race check-ins to meet and discuss the event with fellow gravel cyclists. There was much talk about the windy forecast and sandy roads of south-central Kansas that would make this ride different from other Kansas gravel grinders I've ridden.
The 200k ride started at 8:00 Saturday morning and the 100k riders started shortly after. Four miles in, our large pack of riders hit the sandy gravel we'd discussed the night before. I've ridden gravel roads all over the Midwest but nothing like the sandy roads near Pratt. There are sections with buildups of powdery sand and you quickly lose traction. Your bike squiggles a little and then you're back to normal riding again. It's like driving a car in deep snow, and riders had to put a foot down when they hit a really deep sandy patch. After a few miles we turned onto a section of paved road that took us south toward the beautifully scenic Gypsum Hills. Thankfully, that first section of sandy road was the sandiest of the day. There were other occasional patches of sandiness, but nothing like that first southward stretch.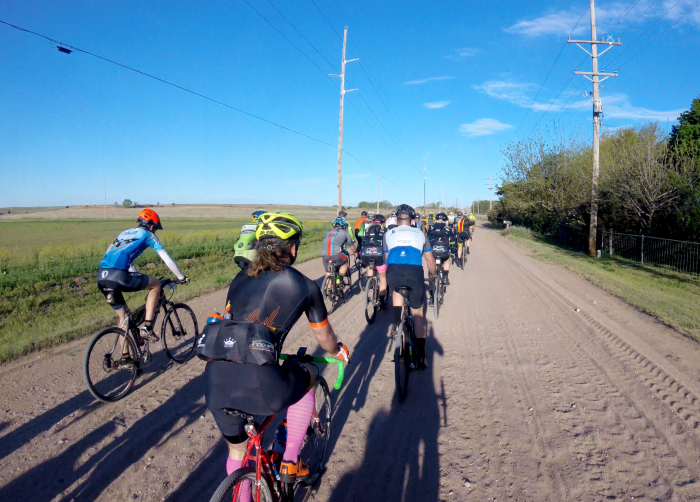 Heading south we ventured onto some private land (a special treat of this organized course), open prairie trails, gravel roads and occasional pavement. The views were marvelous, and the real payoff was the south end of the course. From there you can see numerous examples of what the Gypsum Hills are famous for. Some of the roads there are primitive – almost like mountain bike trails. Unless you're an experienced mountain bike rider, this is probably not a ride for a gravel grinder newbie. After riding some pretty cool roads and trails, we pulled into Medicine Lodge for the second checkpoint. From there the going was straight north to the finish in Pratt.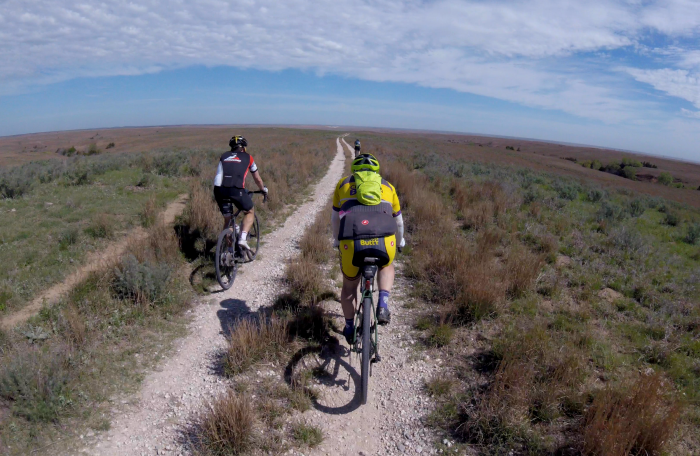 South-central Kansas is always windy, so if you go, expect wind to test your body and mind. Strong North winds made the final miles slow and mentally challenging. The finish line is always a welcome sight, but that day more so than most. Immediately after finishing I was handed a cold bottle of chocolate milk that tasted better in that moment than any chocolate milk ever. After that, they presented me with a finisher medal, a special pint glass and a coupon good for a pulled pork sandwich lunch at the food truck I could already smell. A band was playing and a lot of riders were sitting around talking about their ride with other riders and family members. Like most Kansas gravel events they handed out awards for each category's top finishers and after a while they started the prize raffle (I won some cycling socks). The grand prize was a Trek bicycle and as they announced the winner's name, his son excitedly cried out, "he's just about to finish!" Sure enough, a few minutes later he rolled across the finish line and was pretty excited to learn he'd just won a nice, new bike.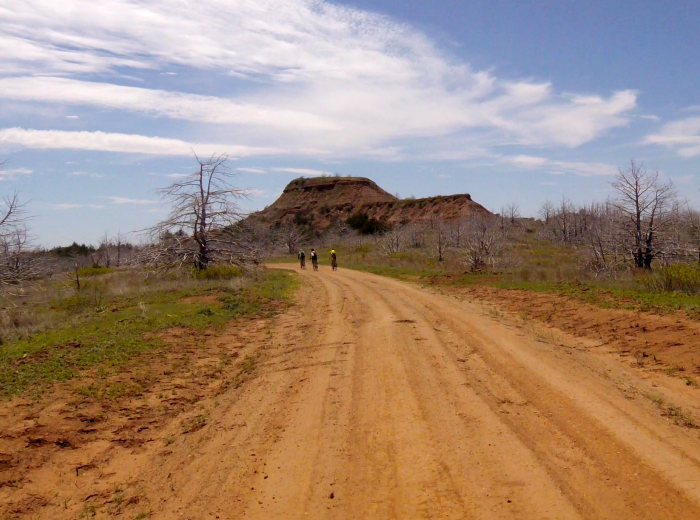 If you haven't ridden Kansas gravel roads, try it! You'll need a bike that can accommodate larger tires than a road bike. For some that means a bike built specifically for gravel. Gravel bikes are very popular these days, but a mountain bike will do, a cyclocross bike, or a hybrid/city bike can do the job nicely. Gravel grinding is a great way to see the beautiful Kansas countryside, meet like-minded friends and have fun. I hope to see you on the Kansas gravel roads someday.