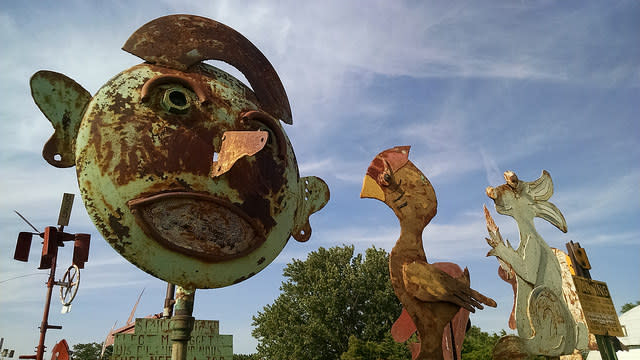 The story of our Yellow Brick Road Trip through the southern part of the Western High Plains began in the bathroom. Prior to our trip, I made arrangements with Ruth Ann at Greensburg GreenTown for a tour. I was curious about the transformation of the community after it was nearly completely leveled by an EF5 tornado in 2007. [[endteaser]]
Just days after the tornado, the community made the decision to rebuild, but in a "green" way – as a model for sustainable practices. Ruth began our tour in the bathroom of a silo eco-home. The home, built as a demonstration site and guest house for ecotourists, features the same building techniques as grain elevators and silos, which prove especially capable of withstanding damaging winds. Ruth explained the home functions as a "laboratory" for resource conservation methods, and we began our laboratory lesson with the toilet. We learned it's possible to choose models that allow for "big" or "small" flushes. We were amazed by the toilet's unique hand-washing basin. It took a minute, but my son figured out the system: the tank filled with the water he used while cleaning his hands! 
From the eco-home, we traveled to the school, where we saw lockers made from recycled milk jugs and locker rooms that double as storm shelters. We learned how the construction makes use of runoff rainwater and natural light, and we came away with a whole trove of ideas to try at home. 
We headed into Montezuma, and began the routine my family follows when we arrive in new places. We cruise Main Street, take note of restaurants, city parks, libraries and food trucks. Initially we agreed Montezuma is exceptionally tidy with interesting street names, but the Stauth Memorial Museum caught us by surprise. The museum is a personal collection of artifacts, photographs and adventure stories detailing Claude and Donalda Stauth's 40 years of travel. Together they visited over 95 different countries on six continents, and brought their treasures home to share with friends and neighbors. Beautifully displayed, honest and compelling, the museum showcases the Stauth's journeys as well as a variety of national and international traveling exhibits. 
The permanent exhibit, "Around the World," features items arranged by region. Charmed by the Hungarian tulip motif adorning several of the handicrafts from Eastern Europe, the docent told me that Donalda wore the beautifully displayed skirt to weddings and special events. While my younger son examined an endless collection of coins, my older son vowed that, when he grows up, he wants to be just like the Stauth's. While we didn't anticipate an international encounter in this small town, we'll forever associate Montezuma with the Romania and Ecuador of Donalda's photographs – and the exceptional piece of coconut cream pie from Eva's Kitchen next door.  
This is just a glimpse into all the adventures this Western High Plains itinerary offers. Don't miss reading about other Yellow Brick Road Trip adventures at TravelKS.com.

Jessica is a teacher, librarian and mom who lives in Holton. She loves all things summertime: Gardening, lazy days at the lake, farmers' markets, and family vacations. Some of her favorite Kansas places include the Art Lab at Washburn University, the Topeka Shawnee County Public Library, the Konza Prairie and Main Street in Newton.