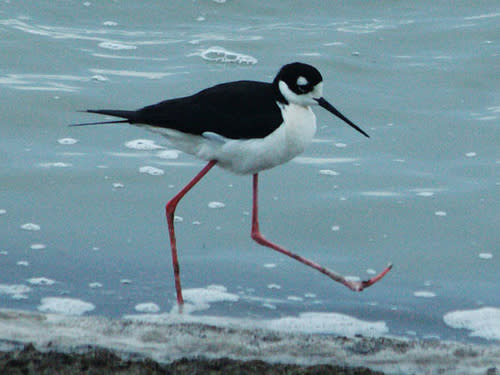 Every two years in Great Bend, migration meets attraction with fantastically fine-feathered results.

We are talking about the Wings and Wetlands Birding Festival, featuring guided birding tours of Cheyenne Bottoms and Quivira National Wildlife Refuge. The weekend brings to Kansas nearly 200 birdwatchers from across the country, all in passionate pursuit of rare and unusual bird sightings. [[endteaser]]

While to some readers it may be surprising to think of Kansas as a bird-watchers paradise, the attraction of birds and birders to the Sunflower State is not at all surprising to those who understand the ecological significance of Cheyenne Bottoms and Quivira, Kansas' two major wetland habitats.

"It is incredibly unique that right here in the middle of Kansas we have two of the most important wetland ecosystems in North America," explains Curtis Wolf, the Site Manager of the Kansas Wetlands Education Center and the chairman of the festival's organizing committee. "Cheyenne Bottoms is the largest wetland in the interior of the U.S. and that is very unique, obviously, for this area. Both of those wetlands (Cheyenne and Quivira) sit in the North American Central Flyway. Basically what that is, is a highway for migrating birds and they migrate right through here."

The migratory birds that show up in Kansas to visit these wetlands each spring are not your run-of-the-mill fine feathered friends.

Curtis explains the wetlands attracts hundreds of unique bird species, many of which are hard to view in the United States. During the end of April and beginning of May, thousands of these hard-to-find birds show up in Kansas, birds with unusual names like Eared Grebes, Ibises, Bitterns, Rails, Coots, Willets, Yellowlegs, and Sandpipers. And don't forget Plovers and Stilts."

This area attracts these water-type birds," Curtis says, "things you would never think you would see in Kansas."

Birdwatchers came to this year's festival from California and Connecticut, and from Minnesota and Texas, and most points in between. They came to watch White Pelicans, birds with huge orange bills that make them awkward looking on the water, but with eight-foot wingspans they are majestic and graceful in flight. These birders also come to witness Wilson's Phalaropes, small shorebirds that spin in tight circles on the water to stir up insects, creating at the same time an incredible choreography. They also come to see Snipes -- yes, Snipes do exist.

Waterfowl are not the only attraction at Wings and Wetlands. This year, many visitors got to see nests of American Bald Eagles and Great Horned Owls. Some had the opportunity to see Greater Prairie Chickens perform their spring mating dance, and then watch Northern Harriers skim over freshly-burnt prairies in search of prey.

Not everyone in attendance was a bird-watching expert. So visitors who do not know the difference between a Blue-Winged and a Cinnamon Teal can still attend and appreciate the amazing plumage of the American Avocet – even if they have no idea what that is.

Visitors also have the opportunity to appreciate one of Kansas' unique highways, the Wetlands and Wildlife National Scenic Byway, which connects Cheyenne Bottoms with Quivira National Wildlife Refuge. This 77-mile byway also features plenty of great Kansas scenery, historical stops along the Santa Fe Trail, ranches, historic churches, and great Kansas small-town charm. Even without the birding festival, the byway is worth a trip.

Many hands cooperate to bring about this biennial festival, including the Kansas Wetlands Education Center, Kansas Department of Wildlife and Parks, The Nature Conservancy, The Great Bend Convention & Visitors Bureau, Barton County, and Fort Hays State.For more information on these sites and the many opportunities to explore nature in the area, visit the Web site of the Great Bend Convention and Visitors Bureau.

By the Numbers:

•    Nearly 200 different bird species identified during the weekend

•    Total of 190 human participants

•    Visitors came from 16 different states

•    KDWP manages 19,857 acres at Cheyenne Bottoms

•    The Nature Conservancy owns and maintains another 7,694 acres at Cheyenne Bottoms

•    Quivira National Wildlife Refuge includes 7,000 acres of marshland and 13,000 acres of grassland. The site includes a 14-mile drive through the refuge.

 

 

 

Dennis Toll is a native of Kansas — his Swedish ancestors settled in Wallace County in the 1890's — and graduated from Kansas State University in 1980 with a degree in landscape architecture. Then Dennis and his wife Amy, a Manhattan native, went to Indiana where Dennis got a master's degree in theology and then to France. They returned to Kansas with four daughters in 2000 and settled in The Little Apple. Dennis enjoys writing for various publications about the Sunflower State and wishes he had more time to spend hiking the prairie.