If you're like me and can't stand the heat, get out of the kitchen…even if it means not satisfying a craving for homemade pie in this hot weather. Thankfully, there's a place right here in Kansas that makes serving my favorite dessert, well, as easy as pie. MarCon Pies in Washington bakes 500-plus fruit, nut, crunch, cream, cheesecake and specialty pies every day, yet each tastes just like grandma used to make. "[[endteaser]]"
I recently ordered a piece of MarCon peach pie at the Emma Chase Café in Cottonwood Falls during one of the café's Friday night jam sessions. You see, MarCon provides pies to restaurants, grocery stores and other retail outlets throughout a good portion of Kansas, so you can linger over a slice when dining out or take a whole pie home to the family. Whole pies are sold freshly baked, frozen baked, and frozen unbaked.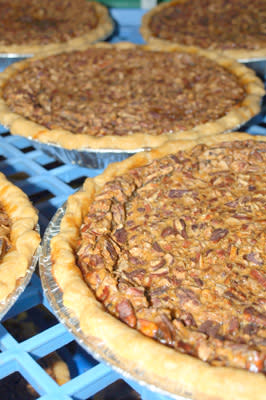 With 90 varieties from which to choose, you can savor the more popular cherry fruit, apple crunch, pecan nut, strawberry cheesecake, banana cream, or French silk specialty. Or, dig your fork into unusual flavors like gooseberry or raspberry fruit, blackberry or pineapple crunch, pumpkin-pecan or walnut-chocolate chip nut, apricot or pistachio cheesecake, sour cream-gooseberry or chocolate-bing cherry cream, or a mince or chocolate mousse specialty pie. You even can request your own favorite combination, because MarCon aims to please. In fact, they also offer sugar-free varieties. It's no wonder the company was voted one of the 8 Wonders of Kansas Commerce, a project of the Kansas Sampler Foundation.
MarCon began over 25 years ago when Connie Allen and Marilyn Hanshaw were baking pies in their home kitchens for auction lunch stands and catering jobs. The number of requests for individual pies began to rise, leading to a regular local delivery route. Eventually, the two were rolling out way too many pies in their small kitchens, so they opened a bakery and MarCon, a combination of their first names, was born. Years later, the women sold MarCon to Don Walsh, who proudly continues the tradition of quality products made from the original owners' recipes and who has expanded the territory in which the pies can be purchased.Make a reservation to tour this factory in north central Kansas where I saw fruit fillings being hand mixed and nimble fingers expertly crimping each pie crust which, by the way, is made with cholesterol free canola oil and bakes up tender and flaky. Take home a fresh homemade pie for "A Little Slice of Heaven," the bakery's logo.
There's always room for pie. Where do you find your favorite?
Cecilia Harris is a professional freelance writer from Abilene who enjoys discovering fascinating attractions, events and people that reflect the arts, culture and heritage found in Kansas. She has been a longtime regular contributor to KANSAS! magazine and also has written for such publications as Midwest Living, Sunflower Living, Kansas Heritage and The Greyhound Review to inspire others to explore and appreciate her home state. She also has authored two books, "Historic Homes of Abilene" and "Abilene's Carousel."