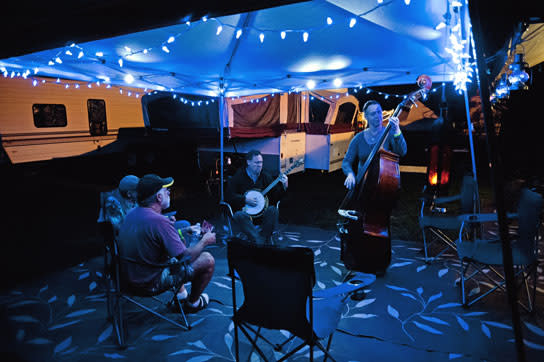 Every year, right as the heat subsides but before the leaves change, comes a landmark occasion for music lovers in Kansas. If your grass is blue, then the Walnut Valley Festival is the place for you.

Winfield, in the southeast corner of the state, becomes a home away from home for thousands of folk and flatpickin' fans every September. It's almost become a rite of passage for any native Kansan.[[endteaser]]

Although the event, now in its 43rd year, has become famous for its folk and bluegrass varieties, you'll also hear the sounds of gospel, jazz and even a little bit country floating around in the air. Walnut Valley has been consistently playing host to legendary acts such as John McCutcheon and local man-about-town Barry "Bones" Patton. Last year Patton even exchanged vows onstage with the love of his life, a very fitting affair for the popular performer and local celebrity.

Top musicians from around the world attend to compete in the 8 different International and National acoustic instrument championship contests. Handcrafted instruments, such as dulcimers and one-of-a-kind guitars, are awarded to the top competitors in every category.

"We have people from all around the world that come for the competitions," says Rex Flottman, a longtime coordinator of the event, who adds that some fans come from as far as Japan, Australia and the Philippines. "Basically they're recognized as international championships and national competitions. So it generally draws the top players of those particular instruments in the world here."

Of course, the festival grounds have grown into a homestead for those traveling to Winfield. "A real high percentage of the fans that come to the festival are also musicians, and almost all of them will bring at least one instrument. So there's a lot of music that's shared down in the campground," says Flottman. "They get to know each other, swapping songs and showing each other how to play."

The experience becomes a sentimental one for most of the campers, and eventually becomes a staple in their yearly routine. According to Flottman, some people who attend the festival don't even visit the live stages. "They come for the fellowship and the musicians and the campgrounds."

You can see what that fellowship is all about every third weekend of September in Winfield.
– Fally Afani
  
KANSAS! is a magazine published by Kansas Tourism, under the Kansas Department of Wildlife, Parks & Tourism. The publication promotes tourism in the state with an emphasis on travel articles. KANSAS! is published quarterly with spring, summer, fall and winter issues.