Belly up to the bar in the Western Kansas Saloon and Grill in WaKeeney like I did and you'll feel like you're stepping back in time. The wood floor, pressed tin ceiling, paintings of early-day Trego County, and shelves filled with glass milk bottles, oil lamps, and washboards create an old-fashioned atmosphere. If the walls in this building constructed as a hardware store in 1925 could talk, they would have stories to tell!  [[endteaser]]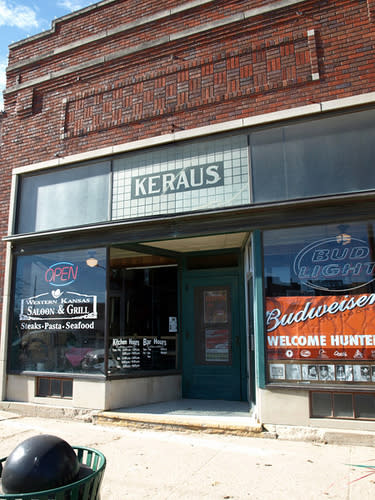 One account relates that during prohibition, the store clerks dropped a coin through a small, triangle-shaped hole in the floor to warn the high-stakes gamblers shuffling cards below that the law had arrived. The hole – although plugged – is there still, just ask your waitress. Trumping that story, however, is the chronicle of how WaKeeney became the Christmas City of the High Plains. In the basement, the store owner and another businessman created for the town an original Christmas display they revealed in 1950. The 35-foot handmade tree, still displayed yearly, led to the designation.

Instead of dining on that day's popular lunch special, a Fajita Philly, I dipped tender steak fingers into the chef's exceptional barbecue sauce, a delicious combination of sweet and smoky flavors. I appreciated the added nutritional value of the skins left on the potatoes that were cut to just the right size in the creamy homemade potato salad. The locals say the KC Strip, topped with the chef's special sauce, brings in a full house. What is your favorite dinner entree at this establishment?

I cooked up the idea of making a career combining my love for writing, eating, and traveling after my sons were born. I grilled my friends living in other parts of the state about their favorite restaurants, and some of those establishments eventually became the topic of my Historic Restaurant series, and later the Tastes column, published in KANSAS! magazine. I simply enjoy the adventure of discovering great food found at unique restaurants, small-town grocery stores, and farm-based processors throughout Kansas, and then sharing what I've learned with you.