Scott City State Lake
, nestled in amongst the rising bluffs of Scott County, is home to some great Kansas historical sites and outdoor recreation. The campsites and lake were hopping with visitors when we toured the area over Memorial Day and I could tell right away that this would be a great place to spend a long weekend. 
[[endteaser]]
After we paid our $5 entry fee to drive into the area (save money by purchasing a Kansas State Parks Passport, an annual vehicle permit, when you renew your tags in person or online), we wound through the twisting roads and observed campers in action whether it was canoeing, fishing, bicycling, hiking or just sitting around enjoying the refreshing outdoor air. Also noteworthy is a swimming beach in this spring fed lake (which I can imagine gets very crowded during the summer months) and the neighboring Spanish revival concession stand that plays host to every campers needs. No matter what the activity, the backdrops of the surrounding bluffs provided beautiful scenery for all to enjoy.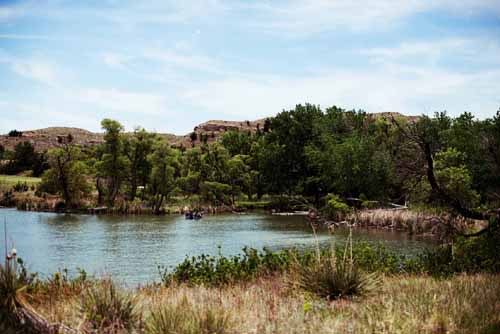 After taking in the natural attractions of the lake, my husband and I toured the historical sites, beginning with the El Cuartelejo, a seven room home and the only known Native American Pueblo in our state that dates back to 1664. A few months back I saw the small model of what El Cuartelejo might have looked like at a museum in Scott City and I was excited to witness the actual site. Excavated in 1899 by a team of archaeologists, the lower stone walls were exposed, revealing the Pueblo ruins.
Secondly, we visited the Steele House, home to the Steeles who used hand-quarried native sandstone from surrounding bluffs to construct their split level home (a first in this part of the country) during the early 1800's. Heirless, the Steeles sold 620 acres to the State Forestry, Fish and Game in 1929 and that land later became part of the Lake Scott State Park. The home itself has some original furnishings and other items dedicated by locals in Scott City. The home/museum is set up as a walkthrough to yesteryear where visitors are allowed to carefully touch household items and do not need to peer from behind a rope- my favorite type of museum. Visiting the Steele's home felt very comfortable and it felt as if it was just as it had been 100 years ago. Finally, up a very steep and sandy trail is a monument dedicated to the Steeles and all pioneers of western Kansas. The climb is steep but the view of the lake and beyond is breathtaking.
I can see my family camping here and exploring the trails but I would definitely bring the mountain bikes to explore the bluffs. Another must bring would be our golden retriever, who like us loves hiking but would most enjoy cooling off with a dip in the lake.

Jenni Harrison is a Topeka native and graduate of Washburn University who owns her own business. She stays busy as a leader for a Girl Scout Troop, Cub Scout Den and the never ending duties of being a mom. Besides her high school sweetheart whom she married many years ago and their three children, her other loves include two parrots and the three dogs who surround her at all times while she is working from home.