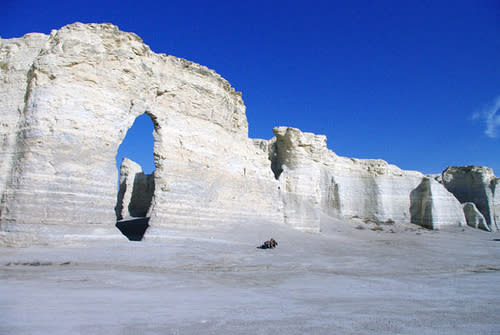 Vast is the word that strikes a traveler on the Western Vistas Historic Byway. It is very nearly the only way to describe the open plains that greet you along this 102-mile road in the furthest stretches of western Kansas. A mix of natural archeological, architectural, cultural and historic sites line this first historic byway in the state providing enough variety to guarantee each traveler a unique reward. [[endteaser]]

Ours came after a trip that was not for the faint of heart. It involved driving a mini-van seven miles off the main highway down a dirt and gravel road. No farm houses in site. No quick places to stop for directions. We did not see another car for thirty minutes until we rounded a curve in the road and actually beheld the amazing - Monument Rocks.

It was WELL worth the trip.

These 80-million year old chalk formations were first named a National Natural Landmark in 1968. They are undeveloped, sitting on private land that the owner is kind enough to open for people to enjoy. These towering outcroppings and other rock formations nearby were left behind from the time when a vast inland sea covered the state. Some of the best examples of Cretaceous marine fossils in the world have been found in this part of the state. My boys loved Monument Rocks. They giggled and laughed, tried to climb up the sloping sides of the formations and wanted to pretend they were digging for fossils.



The formations themselves are somewhat magical. It's hard to believe they are there. When you look at our pictures, you can get an idea of just how isolated they are. That adds to the trip, giving you a chance to feel almost like an explorer yourself. Gazing out on that open prairie gives you an idea of what people have been up against through the years as they decided to make this area their home.

The Western Vistas Historic Byway begins in Scott County at Scott City on US-83. It goes north to Oakley, then continues west on US-40 to Sharon Springs in Wallace County. There is a lot to see. The El Quartelejo Museum in Scott City tells the story of Monument Rocks, the area's fossil finds and the northernmost Indian pueblo found in North America - El Quartelejo. There are several other local history museums and natural wonders to see along the way. In Oakley you'll experience a larger than life version of the man Buffalo Bill, and if you have ever wondered about the Fick Fossil Museum – it's on the list too. There's a cool new website at www.westernvistashistoricbyway.com where you can learn more about the museums, historic sites and natural wonders on the byway.

For those who love the prairie, or just want to experience wide open spaces and imagine what it would have been like to be among the early explorers, settlers and pioneers in our state, this drive is a great trip.

And if you bring your own adventuring nature, you can also travel to Mount Sunflower, the highest point in the state, near the end of your trip. It's another gravel-road journey – I believe 13 miles for this one. Is anyone up for it? Or if you have already shown your grit and determination by going there, how was it?

Karen Ridder is a freelance writer living in Topeka. A former News Producer for KSNW-TV in Wichita, her work can also been seen in print publications including: Topeka Magazine, TK Magazine and the Topeka Capital-Journal. She has written for several national blogs and was recently recognized as one of the 2011 winners in the Annual Kansas Factual Story Contest. Karen has lived in Kansas for 15 years and married a native Wichitan. Together they are raising two little sunflower boys and a dog named George.