School is back in session and one thing I've learned is that college towns have some of the best places to eat. My homework revealed the Ol Stuga in Lindsborg was a finalist last November in Good Morning America's "Best Bites Challenge: College Edition" to find the best college town hangout with great food and a cool atmosphere. One of the reasons for the Ol Stuga's high marks was the Brent Nelson Sandwich, so my assignment was to give this concoction a taste test.[[endteaser]]
The Brent Nelson is a grilled and split Polish sausage topped with barbecue sauce, onions, smoky sharp cheddar cheese and hot pepper cheese served warm on a submarine bun. After one bite I knew Ol Stuga owner Mark Lysell deserved extra credit for creating this unusual combination of flavors!
But who is Brent Nelson? A regular at the Ol Stuga, Brent couldn't decide what to order one day so Mark simply said "trust me" and produced the sandwich based on his knowledge of Brent's favorite foods. Brent liked it so well he asked for it every day and when others began ordering Brent's unique sandwich Mark put it on the menu. Customers rank it, the Grilled Reuben and the American Submarine at the top of the class.But make no mistake, this also is a Swedish establishment with a real Viking as owner. For 34 years Mark's been educating his customers about his heritage, serving rye bread, smoked oyster and sardine trays, liverwurst, and a Swedish Delicacy Tray of pickled herring, Knackebrod (a crisp bread) and bond-ost cheese.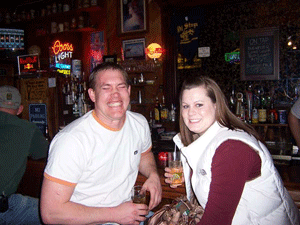 As for the atmosphere, Ol Stuga translates to beer cottage and this is a place where everyone may learn your name. It's obvious that Mark, sporting a t-shirt that dubs Ol Stuga as "a retreat from learning," enjoys people as he interacts with customers. Photographs of past patrons even adorn the tabletops in the establishment with a décor of dark woods, a vintage mirror behind the bar, a wagon wheel light fixture, and walls filled with signs, cattle brands and other memorabilia. And for those who like the crisp autumn air, there's a side patio.Do you have a favorite restaurant in a college town?

Photos provided courtesy of Ol Stuga  

I cooked up the idea of making a career combining my love for writing, eating, and traveling after my sons were born. I grilled my friends living in other parts of the state about their favorite restaurants, and some of those establishments eventually became the topic of my Historic Restaurant series, and later the Tastes column, published in KANSAS! magazine. I simply enjoy the adventure of discovering great food found at unique restaurants, small-town grocery stores, and farm-based processors throughout Kansas, and then sharing what I've learned with you.