Ahh! Romance is in the air! On the top floor of what was built as an elaborate hotel over 80 years ago, Hubby and I celebrated our anniversary in the comfort of old world charm as we dined on classic dishes with a European touch at Rooftops Restaurant & Lounge in Hays. The aged Venetian plaster and exposed brick walls, brick archways and hanging grape vines provided the cozy setting of an Italian villa, with nature adding to the ambiance by bestowing a colorful sunset seen through the tall window near our corner table as we lingered over our meal.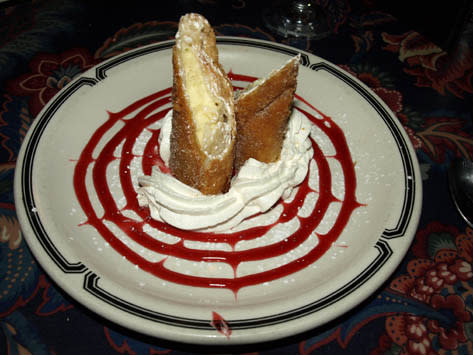 Rooftops is well known for its tender Prime Rib of Beef, seasoned with a special blend of spices and roasted for 24 hours; unfortunately, it's only served on Wednesday, Friday and Saturday. Since it was Tuesday, we studied the diverse menu offering everything from award winning dry aged steaks to veal and seafood entrees. A category called Tuscan Traditions listed Scallopine de Vitello Con Carciofi, veal slices sautéed with olive oil and artichoke hearts in a lemon cream sauce, while Taste of the New World dishes included Pork Mandarin, grilled pork loin glazed in sweet Thai chili and orange zest.
I ordered the Filetto de Manzo Alla Princesa, tenderloin medallions with crabmeat and shrimp finished with fresh basil, a splash of burgundy and a Hollandaise sauce. The special of the day, steak with shrimp scampi on the side, sounded good to Hubby. We nibbled on Stuffed Mushrooms Casino, an appetizer of crab stuffed mushrooms with Hollandaise sauce before the waitress brought a cup of ham and bean soup followed by a salad bowl of crisp mixed greens, red onion, crunchy croutons and, of course, a house Italian dressing.
Adding to the experience was the delightful presentation of the food; my shrimp were tied together and stacked upright on top of the flavorful crab and melt-in-your-mouth tenderloin medallions. For dessert, we passed on the popular Fudge Lava Cake and instead ordered the Flame Roasted Apple Tart and the House Fried Cheesecake. Both were artistically appealing to the eye with whipped cream dollops, a drizzling of raspberry sauce and a light sprinkling of powdered sugar for a pretty – and scrumptious - ending to our meal.
Where do you dine in Kansas for a special event like an anniversary?
Cecilia Harris is a professional freelance writer from Abilene who enjoys discovering fascinating attractions, events and people that reflect the arts, culture and heritage found in Kansas. She has been a longtime regular contributor to KANSAS! magazine and also has written for such publications as Midwest Living, Sunflower Living, Kansas Heritage and The Greyhound Review to inspire others to explore and appreciate her home state. She also has authored two books, "Historic Homes of Abilene" and "Abilene's Carousel."