A Faces & Places Roadie Blog  
The Faces and Places tour is winding down and looking at all of our trips through Kansas, I can say the US 36 Highway Treasure Hunt destination was perfect for me and my husband. We made a date of this tour trip and traveled from the eastern to the western borders of the state, making several U-turns, getting in and out of the car repeatedly, negotiating deals, waving to local Kansans and seeing even more of the state than we had bargained for. What better way to spend a mini vacation with my hubby? [[endteaser]]
One thing I learned is that a weekend is not long enough for this sale! I would love to take several days to drive the route again and spend more time in each community. Not only were there many antique stores I'd like to visit or revisit but there are also diners, a soda fountain, local grocers, museums, friendly people with great stories and a lot of local flair. Main Street USA can be found along the route if you look close enough with goat milk for sale and pumpkin vendors seen along the journey during this early autumn drive through the Heartland. Simple things such as these were the true treasures, the bonuses that we found along US 36.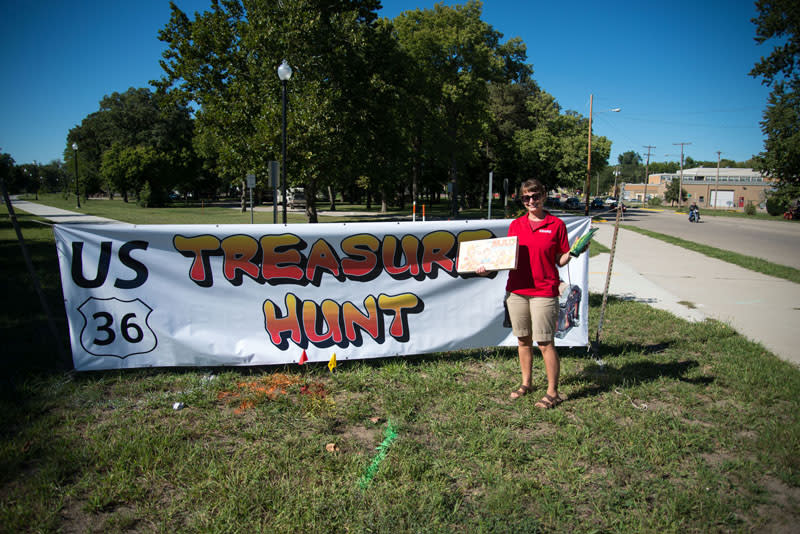 Secondly, I noticed only one chain hotel along the way. Most night's stays could be enjoyed at a motel and although they seem like a thing of the past in my busy life, along this strip vacancies could be hard to find. I spoke with Dennis and Monica Iles in Marysville who have participated in a garage sale with their friends every year and they confirmed no rooms could be found in that area during the sale.
In Smith Center we stopped at what was a very busy eatery for some lunch, the Jiffy Burger. John Boden, superintendent of the golf course and coach for boys basketball and volleyball at the near by high school was also picking up some food to go and he told me this was the most traffic through town that he had ever seen. 
While many others were finding their own gems, I loaded up the van with an embarrassing amount of vintage Tupperware, goodies for friends, a fly fishing pole set and vintage VW gas cap, an old metal fan and the one thing I was after- a chicken nesting box for my ladies at home. I would almost bet there was something for everyone somewhere on this 400-mile stretch.
Although there were several home garage sales, I flocked to the larger setups with several vendors in a row such as in Scandia. Besides some great bargains, we found some wonderful treats being baked in the Community Center by Brandi, who also bakes on a regular basis for the Concordia Farmer's Market. The smell of Kolaches using peaches from her backyard tree, cinnamon rolls, and bierocks hit us as soon as we entered the building. She was continually moving and that's because her food was in high demand. The day before there was a point where nine out of twelve of her bierocks and beef and cheese bundles were sold before they were out of the oven.
I tended to lose myself in antique stores and flea markets where I could score some vintage "junk". These shops were also seeing an increase in business over the weekend. We found some stores that are not open on a regular basis whether the owners are away picking or attending auctions. In Lebanon if you are lucky to find Brian Spear open for business in the old elementary school, you will find two classrooms full of items. Brian himself scored his own treasure when he purchased the old school building, gym and acreage a few years ago for only $500 from the city. The rest of the building is home to his mancave, housing his finds that are not for sale.
We had begun our second day very early, catching a gorgeous sunrise coming out across the Kansas fields and later trekking through a sunflower patch to catch a beautiful sight of these sun worshippers. Our day ended with a drive through the Arikarree breaks and a sunset view of the western part of our state. From east to west on this two-day journey across Kansas there were many treasures to find, we just needed to slow our lives down and hunt for them.
Other great finds along the way that we enjoyed:
Alcove Springs, Marysville (The Donner Party camped here along their journey.)
Marcon Pies, Washington (We picked up a pie to take home. They don't call Washington the Pie Capitol of Kansas for nothing.)
The Geographical Center of the United States, Lebanon   
The Dutch Windmill, Smith Center (One of two in Kansas.)
The Arikaree Breaks driving tour, North of St. Francis on 27  (Not on US 36 but as long as you've made the trip, this is something to see.)

Jenni Harrison is a Topeka native and graduate of Washburn University who owns her own business. She stays busy as a leader for a Girl Scout Troop, Cub Scout Den and the never ending duties of being a mom. Besides her high school sweetheart whom she married many years ago and their three children, her other loves include two parrots and the three dogs who surround her at all times while she is working from home.