I took a new friend turkey hunting last weekend. Everett Ross missed his only shot at a wild turkey. I didn't miss the opportunity to gain a deep appreciation for the very special veteran.
The event was the two-day Track Chair turkey hunt held by the Adaptive Sportsmen of Kansas. The program is largely funded and managed by the Kansas Department of Wildlife, Parks and Tourism. The hunt was at Timber Hills Lake Ranch, in Bourbon County, near Mapleton.
Like many his age, Everett was raised on a family farm in western Kansas. He was just beginning to farm and raise some cattle when his draft notice arrived.
Everett was only 20 years old when he lost both legs during the legendary fight for Hamburger Hill in Vietnam. Everett still insists he was one of the lucky ones. His unit lost 26 soldiers killed one night. In a few weeks it will have been 50 years since he was shipped back to the U.S., still coated in the dirt and grime of battle, to heal and move on.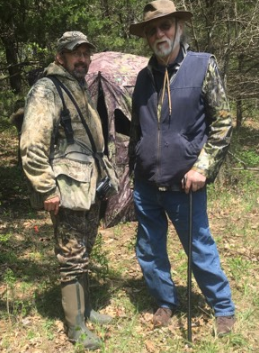 I shudder to think about the pain and frustration of recovery, rehab, and learning to walk with two prostheses amid the technology and lack of political support of the day. Figuring farming was no longer an option, Everett ended up in Arkansas City, where he worked a long career, raised two sons and held up his half of a 40-plus year marriage.
As I watched him slowly maneuver about last weekend I was almost overwhelmed. He'd carried those horrendous war injuries since the year man first walked on the moon, back when the Beatles were still together and Nixon had only been president a few weeks. Everett was learning to walk again while 400,000 of his generation drove, ran or flew on psychedelic highs to Woodstock in that summer of 1969.
Sunday on our hunt his steps took five-times longer than even my uncoordinated gait. He never struck the ground, but there were some stumbles and times we barely kept him from going over as he got in and out of a blind.
I apologized we didn't get him a turkey. He remained upbeat and said it was just nice to get out and try turkey hunting, something he'd wanted to experience for years. He left as he'd come, smiling and happy for the opportunity.
Everett may not have gotten a bird, but he's gained a friend who carries a huge amount of respect, and appreciation for how hard he's worked to live a life of relative normalcy.
I also got a reminder of just how good I have it. Hopefully I'll think back on Everett's determination when life's obstacles come my way.
Someday I hope to call him in a nice turkey. Even if it's a world record, it won't match the size of the gift Everett has given to me.