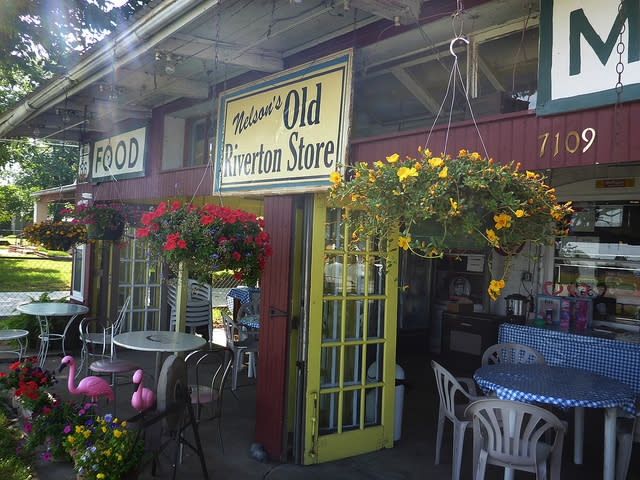 Some of my most cherished childhood memories are of my grandparents taking my brothers and me on journeys across Kansas. Now that I have children of my own, I want them to have the same experiences and discover everything our state has to offer. I think I've successfully imparted some of that excitement, because ever since we returned from our

Yellow Brick Road Trip

, my 3-year-old son wakes me up, extremely early, asking if he is going on another field trip today.

Our favorite part of the trip was our journey along Route 66 in Galena. There we found "Tow-Tater," a 1951 International Harvester tow truck that inspired "Tow-Mater" in the Disney Pixar movie "Cars." For our son, this was just like meeting his favorite celebrity. As soon as we pulled up, the absolutely charming and vivacious Melba the Mouth (a name she calls herself) came out to greet our family. After letting our son pose for pictures inside Tow-Tater, she brought us into Cars on the Route, a once-abandoned service station that is now both a diner and a souvenir shop. From the way she interacted with our children to showing us a scrapbook of local areas that are in the Disney Pixar movie, Melba made us feel welcome and treated us like we were the only people, not in Galena, but in Kansas.

From there, we stopped at The Old Riverton Store on Route 66. I felt like I had stepped back in time as I wandered around this quaint store, soaking in the Route 66 memorabilia amidst the vibrant flowers that were located outside and at the front of the store. I ordered a mouth-watering ham sandwich and had an old-fashioned fountain Pepsi that was extra sweet. The store sells a little bit of everything from groceries and gadgets, to clothing and candy.




After all the excitement and refueling, the kids were ready to play. We headed to Crawford State Park, just southwest of Fort Scott. Located on the edge of the Ozarks, this park features a 150-acre lake, trails, six campgrounds, modern cabins with lake views and a swimming beach. My son quickly spotted the playground near the beach.

From the time I began planning this trip, I was bound and determined to eat at the Pittsburg restaurants that sparked the chicken war. When my family and I stepped into Chicken Annie's, I immediately felt like I was transported back to a simpler time and reminded of a place my grandparents would have taken us. At both Chicken Annie's and Chicken Mary's, the service was impeccable and the food was everything the hype made it out to be. Chicken Annie's had homemade onion rings that were perfection in a bite.  Both restaurants keep limited hours, so be sure to double check before your visit.

Other highlights of our Yellow Brick Road Trip included Big Brutus, an ENORMOUS electric shovel that is an eternal tribute to the mining history of Southeast Kansas; and Fort Scott National Historic Site, a restored frontier military fort that tells the story of early American settlement in Kansas and the pre-Civil War years known as Bleeding Kansas.



As I look back over that family getaway, I savor the memories of one of the best weekends our family has ever experienced. It does take extra effort to travel with little ones, but to me, the bonding, learning and exploring make it worthwhile. I'm making the same kinds of memories for our children as my grandparents made for me. 

Erin is an advertising executive, a history lover and a mom who lives in rural Kansas. She adores everything about autumn – except when it ends. She also loves going on random adventures with her family. Her favorite Kansas destinations include Manhattan and her hometown of Dodge City. The best advice she can give travelers with small children? Plan for everything to go wrong! That way, when things go right, you'll feel lucky – and quite a bit more relaxed.