With our busy schedules and little time to cook, our family eats out quite often. But after having one of the best meals out we've ever experienced in our hometown of Topeka, Hubby and I agreed that from now on, we will gladly sacrifice a couple drive-through dinners and a sit-down chain each month to be able to enjoy the RowHouse Restaurant.[[endteaser]]
The building has a historic past, one of two row houses built in the 1870s for Free State advocate William Wallace Ross and his brother. The houses were condemned in the 1990s and narrowly escaped demolition. The Ross Row Houses are now listed on the National Register of Historic Places and the facades been restored to their 1885 appearance.
Owner and chef Greg Fox is a Kansas native whose acting and musical aspirations led him to New York and Nashville, respectively. In 2000 he partnered with another entrepreneur to open a cafe/catering company and a coffee and wine bar in Nashville. Chef Greg moved back to Topeka in 2006 and opened the RowHouse in 2007.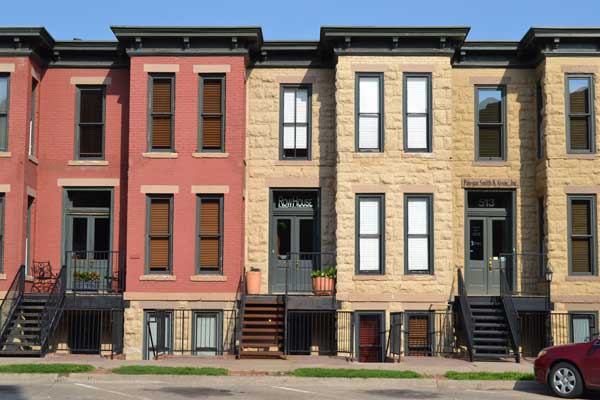 RowHouse is different than many other local restaurants; its menu is set a week at a time. Guests are served the salad, soup, generous tastings of three different entrees and finish the meal with small bites of a variety of desserts. Diners also have the option to select a larger portion of one of the entrees and still receive salad, soup and dessert. The menu reflects what's in season, particularly when produce is available locally. Chef Greg and his culinary team travel to explore new cuisine, then take the flavors from those travels to develop their own interpretations for RowHouse guests. We visited during a week when the menu was inspired by RowHouse Cook Amanda Huse's recent trip to New Orleans.
Hubby and I were seated in the lowest level of the restaurant, the basement, really. But with a street-level window, warm décor, fresh linens on the table and candles all around, it felt more like an intimate hideaway. With each course our waiter, Jamie, explained what he was serving, the genesis of each dish and how it was made. We started with what Chef Greg calls "the taste-a snack before the meal begins." Our taste was a mini beignet (a New Orleans style of fried doughnut) with lime daiquiri glaze sprinkling with freshly-grated lime zest.
The salad course was Baby Lettuces, Cucumber, Grit Crackers with Lime and Tabasco Vinaigrette. Everything was absolutely fresh and delicious but our favorite part was the grit crackers. Imagine an ultra-thin slice of polenta, made with grits instead of cornmeal. The result was a rich, slightly chewy topping that looked and tasted like thinly sliced cheese. With our salads we were served a mini loaf of sourdough, accompanied by butter that had been blended with sea salt and a touch of molasses.
The soup course was Pineapple Gazpacho with Avocado, Coconut and Basil, plucked fresh from the restaurant's backyard garden. This soup was inspired by the El Guapo, a pineapple mojito cocktail Amanda tried in the Big Easy. The vegetarian entree was next-red beans and rice, another Southern favorite. This richness of the tomato base was offset by fresh arugula from the garden, sprinkled with oil and fresh lemon. Hubby and I agreed we could have eaten a big plate of this entree and been completely satisfied (note that Hubby doesn't care for beans or vegetarian dishes). The next two entrees were served together-Blistered Tomato and Green Onion Seafood Stew (with shrimp, scallop and mahi mahi) and Guinness Braised Beef "Po Boy" with Mustand Aioli. The succulent braised beef was topped with tangy ground pickled Brussels sprouts (think cole slaw).
This culinary adventure came to a close with three sweet bites on a plate: Granola and Goat Cheese Bon Bon, Chocolate Lavash Cracker and Avocado Ice Cream. Also on the plate were tiny pools of blackberry jam, chocolate ganache and honey-a sort of dessert canvas for diners to create their own flavor combinations.
Most diners had cleared out by the time we were finished, and Jamie was gracious to take us on a tour of the restaurant's three levels, backyard patio and gardens. What surprised us most was that all this amazing food came out of a kitchen about the size of ours at home, and without professional appliances (they won't fit through the doors and the building's historic status limits modifications to the structure). The RowHouse manages this challenge by seating just a few tables at a time so they can serve freshly prepared gourmet meals on a small scale all evening long.
Although the price is on the high end for a Topeka restaurant, you'd be hard-pressed to find this kind of quality, personal service and unique experience anywhere else in our Capital City. It is worth the price and Hubby and I plan to return on our next special occasion...like next Friday!
My tips and picks for RowHouse Restaurant:
allow plenty of time for the experience...this isn't an eat-and-go meal!
reservations are a MUST, and be sure to request the main level window seating, one of the best views (and most requested tables) in the restaurant. 

Teresa Jenkins is all business during the week, but on the weekends, she, her husband and 11-year old son enjoy loading up the car and hitting the Kansas byways in search of good food and the great people who prepare and serve it. Her favorite cuisines are Mexican, Italian, and "anything with flavor!"