Whether it's First Friday or Final Friday or even Third Thursday, monthly Art Walks in communities throughout the state provide a terrific opportunity to step inside galleries, studios, and other art venues to discover the talent of local artists. I began Topeka's First Friday Art Walk last week at the developing North Topeka Arts District on Kansas Avenue where great strides have been made in bringing artists to the neighborhood.[[endteaser]]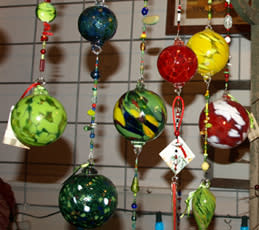 This historic area with its Victorian-era commercial architecture and street lamps provides the perfect setting for a leisurely evening stroll from one art venue to another. My journey started at the NOTO Community Art Center where I was impressed by the featured artwork created by School District 501 employees. In awe, I watched Victoria Rubottom, a fiber artist, weave beautiful blue yarns on a floor loom as we chatted about her work.
A short stroll took me to The Eclective, where a guitarist strummed soothing music as I browsed the showroom. My favorite finds of the evening were here - amazing designs in metal by Renee Johnson and fused glass jewelry by Laura Engelhardt. I tried on one of Engelhardt's colorful rings and had to bring it home as a birthday gift to myself!
As I meandered on down the street, there were a number of stops - some featuring art alone and others where the work was mixed in with antiques and collectibles. Almost all of the venues provided refreshments, making for a fun night of food and entertainment. In fact, I lingered so long I never made it to art stops in other parts of the city! A return trip to First Friday might have to be planned! Is there an Art Walk in your community?
Cecilia Harris is a professional freelance writer from Abilene who enjoys discovering fascinating attractions, events and people that reflect the arts, culture and heritage found in Kansas. She has been a longtime regular contributor to KANSAS! magazine and also has written for such publications as Midwest Living, Sunflower Living, Kansas Heritage and The Greyhound Review to inspire others to explore and appreciate her home state. She also has authored two books, "Historic Homes of Abilene" and "Abilene's Carousel."