In May of 2021 the Big Kansas Road Trip, BKRT to those in the know, is heading east. Come enjoy and explore scenic and unique Brown, Doniphan, and Nemaha counties on May 6-9.
What exactly is the Big Kansas Road Trip? Well in simplest terms, it's a showcase, a tri-county open house! The event is an effort by the Kansas Sampler Foundation to bring the public to selected counties to learn about rural communities through first-hand experiences.
In a way the BKRT is all about pie. Sure we've all heard about places that have amazing pie we've seen pictures of it on their Instagram's but until you've taken the first bite of that pie you don't really get it, the Big Kansas Road Trip is all about getting it.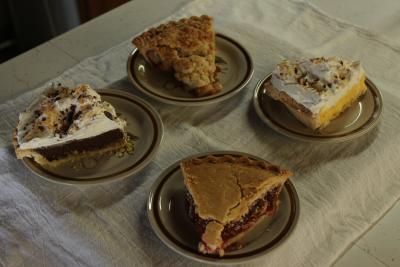 During the four days of the BKRT there are over 200 events, attractions, and places to see and explore – you get to choose your own adventure and select the things to see and do that sound the best for you! You can find out about all these choices by picking up a Big Kansas Road Trip program guide which are available at the local Chambers of Commerce and Libraries or you can check it out online at bigkansasroadtrip.com.
Here you'll find our list of the top ten things you should check out at this year's Big Kansas Road Trip!
Number 1: Attraction, Nemaha County: The Shoe Tree just outside of Wetmore. Bring a shoe or boot to add to the Shoe Tree which has been collecting footwear since the 1980s, it'll be a fun thing to do and record.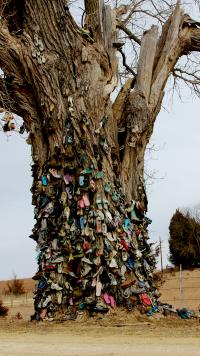 Number 2: Event, Doniphan County: Pie on the Porch in Highland. Get to know the city of Highland by visiting with the locals and enjoying the Pie on the Porch event. Friday-Saturday 10am-12pm and 1-4pm each day or while the pie lasts!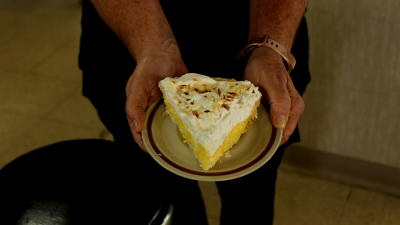 Number 3: Restaurant, Brown County: The Bread Bowl in Hiawatha. Daily specials, homemade hot roast beef sandwich, loaded baked potato soup in a bread bowl, fantastic pies, baked goods and desserts.
Number 4: Event, Nemaha County: Cruise Night in Seneca. Come cruise the route on Main Street in Seneca Friday night! This is a Seneca tradition, when you're finished cruising be sure to stop by Spanky's Bar & Grill to sing a ballad or two at karaoke.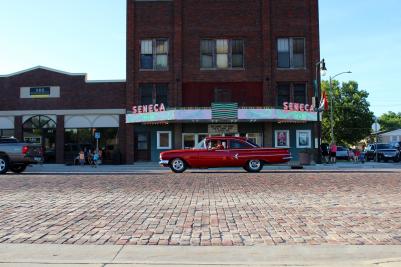 Number 5: Restaurant, Doniphan County: Kirkwood & Co. Table & Tap in Highland. Free appetizer with the purchase of an entree (and coupon from the BKRT guide must be shown). Serving Highland Community College wine.
Number 6: Attraction, Brown County: Davis Memorial in Hiawatha. It's rather startling to find this incredible memorial so casually situated within the town cemetery. John Davis erected it for his wife, Sarah who died in 1930.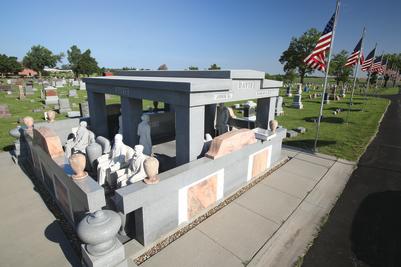 Number 7: Restaurant, Nemaha County: Brick Street Wine & Furniture Lounge in Sabetha. Daily lunch and dinner specials and the only Wine Wall in Kansas. You can also shop for furniture, gift items and this is where you'll find Sweet Rosie's Bakery!
Number 8: Attraction, Doniphan County: Four State Lookout in White Cloud. A viewing platform offers a panorama of the broad Missouri River Valley, as well as of Kansas, Nebraska, Missouri and Iowa. Take a 360 turn to view the rolling hills of the Glacial Hills region.
Number 9: Event, Brown County: Make your own BKRT souvenir in Powhattan. Make a leather souvenir with Luke Pollock, a well-known leather craftsman and owner of Pollock's Products. The activity will take about 30 minutes to complete. Fee of $10. Thursday & Friday 9am-5pm.
Number 10: The Stump! Meet Marci Penner and WenDee Rowe of the Kansas Sampler Foundation and co-authors of the Kansas Guidebook 2 for Explorers. At The Stump, Marci will ask Kansas questions and the audience will answer.  In the end, someone walks away with a prize. Kansas guidebooks and Explorer swag will be available at The Stump, too. Check the schedule on the website for all the times – at one Stump location in each county the prize given away will be a Northeast Kansas basket donated by Northeast Kansas Tourism.
This is just a taste of all the fun and unique things to see and do in Brown, Doniphan, and Nemaha counties. Be sure to pick up a BKRT Program Guide to help plan your adventure. If you aren't able to pick one up before the BKRT they will be found at the information centers (libraries) in most of the towns during the Road Trip. If you have questions about the Big Kansas Road Trip please visit BigKansasRoadTrip.com for more information. You can also contact Kylee Bergstrom, Executive Director of the Seneca Area Chamber and Downtown Impact at senecaimpact@gmail.com or 785-336-1313.
We hope you'll make the trip to come see rural Kansas as it really is in Brown, Doniphan, and Nemaha counties on May 6-9, 2021. We can't wait to share our piece of the pie with you. #BKRT21