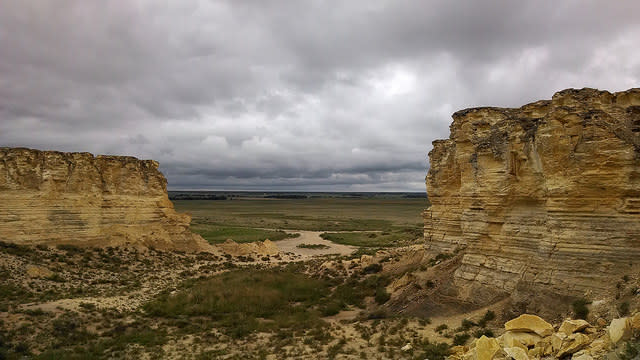 One of the things I love most about being a Kansas girl is the remarkable diversity of this state. In fact, if you had been along with me on my Yellow Brick Road Trip through the Northwestern High Plains, you would have marveled at dramatic rock formations and tasted the rich brew of a local coffee roaster. You could have experienced Kansas' African-American heritage or hiked miles of scenic trails. [[endteaser]]
We began our journey in Nicodemus, a town settled by former slaves fleeing the racism of post-Civil War South. Lured by the promise of rich crop land, the first residents struggled to find materials to build shelter and provide food for their families. Nevertheless, the town prospered and, at one time, was one of the largest communities in the county. We discovered Nicodemus' history by completing the Junior Ranger program provided by the National Park Service. My sons, Charlie and Lucas, received instructions and free activity books from the park ranger at the visitor center. The book guided us through town; we solved the clues by investigating five historic buildings. Our search included a visit to the St. Francis Hotel to find out when it was originally built, and a trip to the 1918 schoolhouse to count its rooms. At the end, the boys solemnly took the Junior Ranger pledge and accepted their certificates and pins from the ranger. 
My family and I drove south from Nicodemus and hit unpaved road at Quinter, all of us experiencing Gove County for the first time. I want to stress that I've seen hundreds of pictures of Castle Rock. I did my research and could tell you all about the inland sea and the erosive process that left these hulking chalk formations sticking out of an otherwise flat expanse of prairie. Yet no photograph could have prepared me for the view overlooking the limestone spires and the badlands. It was beautiful, frightening, humbling, and so terrifically unexpected. Although it might seem usual to consider spending an afternoon at a rock, pack your picnic baskets and grab sunscreen. We spent hours discovering unusual plants (not many cacti up here in the northeast), insects, and fossils. 
Later on the trip we visited Monument Rocks, and, although the formations were equally impressive, there were more visitors at this formation (probably because they're closer to a main highway). The last stop on our list of geological wonders was Arikaree Breaks north of St. Francis. We picked up a local informational map at our hotel and headed off on a self-guided tour of the "Breaks," a three-mile stretch of badlands that stand in sharp contrast to the surrounding landscape. Although these rugged canyons are located on private land, the driving tour leads visitors past numerous easily-identifiable geographical features and places of historical significance. We spent our time stopping at overlooks and snapping pictures.  When our drive turned into a family science class - the kids wanted to know how canyons happened in Kansas - the guide was a great resource. 


The next morning, we headed to downtown St. Francis for breakfast and discovered Fresh Seven Coffee. My husband is a bit of a coffee snob, and he now rates Fresh Seven among his top favorites. Creative in its whole approach, the shop and roastery consists of two small metal buildings set inside a repurposed storefront known as Union Square. Owner Heidi Plumb describes her enterprise as a "small batch micro-roaster" serving up coffee and espresso from globally-harvested beans. I recommend the house coffee with an extra shot of espresso. Made using the slow pour method, I watched Heidi place the grounds in a small basket. Then, using water heated to the optimum temperature, she poured it slowly over the grounds. The result was an exceptional brew – dark, but without the usual acid bite. The rest of the space in Union Square serves as a market space for local microbusinesses. On this particular morning, vendors were selling fresh tamales and garden produce.  
This is just a glimpse into all the adventures this Northwestern High Plains itinerary offers. Don't miss reading about other Yellow Brick Road Trip adventures at TravelKS.com. 

Jessica is a teacher, librarian and mom who lives in Holton. She loves all things summertime: Gardening, lazy days at the lake, farmers' markets, and family vacations. Some of her favorite Kansas places include the Art Lab at Washburn University, the Topeka Shawnee County Public Library, the Konza Prairie and Main Street in Newton.