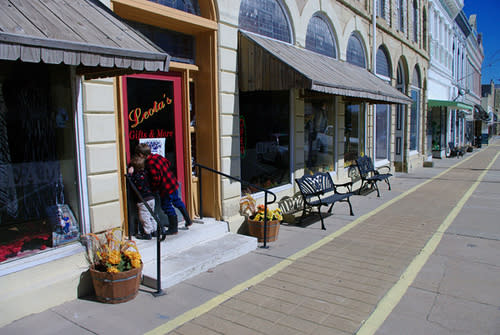 Sedan is a place where Kansas traditions mix with rugged adventures to create a unique weekend getaway. You can wander through interesting gift shops, enjoy a good meal, or go hiking at the nearly 10,000-acre Red Buffalo Ranch.

Our day-trip started in downtown. We lunched on hamburgers at the Main Street Café where I was reminded of what eating a hamburger is supposed to be like. The gravy-french-fry-burger-stacked creation my husband ordered defies adequate description, but let's just say my meat-eating man was satisfied. The historic main street offered unique gift shops to explore, including one where you can get ice cream and let the kids draw on the walls. Downtown also features the Emmett Kelly Museum dedicated to the famous clown born in Sedan.

The Red Buffalo Store and Coffee Bar was the beginning of our Ranch adventure. The nearly 10,000-acre ranch, just outside Sedan, is the home of the grass-fed Tallgrass Beef operation owned by Journalist Bill Kurtis. The ranch is also where you can find the beautiful Butcher Falls, a 14-foot waterfall, which creates a startlingly beautiful prairie memory for visitors. It is perfect for a picnic or fishing, and is open to the public outside of hunting season, which runs from January 7 to August 29. From the falls you can follow one of two hiking trails on the ranch that lead to the hill-top "Prairie Henge" rock sculpture created by world renowned Kansas artist Stan Herd. A 9-hole Disc Golf course along the trail features three river crossings, a waterfall, and four cliff shots. For overnight stays, the Red Buffalo has two houses on the ranch that can be rented out, as well as one in town. A couple of camping options are also available. One includes a huge Tee-Pee and campfire site near the falls that I know would thrill my kids. The other is near a lake where you can fish, swim or ski. The camp areas are primitive and Red Buffalo asks that you protect the prairie and carry out your own trash. Sites must be reserved and there is a fee. Call (925) 812-0684 or the Red Buffalo Store and Coffee Bar at (620) 725-4022.

The best time to plan your trip to Sedan may be early spring when the prairie comes to life. The town hosts a Red Bud Tour providing a map to back roads that can lead you to the best red-bud viewing in the area and free red bud saplings to visitors who stop by a downtown booth. If you're lucky, you might also get to see some of the prairie burns that are a regular part of ranch life in this area. Sedan also hosts festivals throughout the warm weather months. In the fall, the white tail deer population makes the area a popular spot for hunters. For more information on festivals or guided hunting, call the Sedan Chamber of Commerce at (620) 725-4033.

One more stop on your trip, if you have kids, or are still a kid at heart, is just down the road towards Independence. The Little House on the Prairie Museum sits at the original site of the house Laura Ingalls Wilder described in her famous children's book. My son was thrilled to visit the replica cabin. The site, which also includes a one-room school house, post office, farm building and animals, is open seasonally. This year it opens April 1. For more information on special events at the site, check out their Facebook page.

Karen Ridder is a freelance writer living in Topeka. A former News Producer for KSNW-TV in Wichita, her work can also been seen in print publications including: Topeka Magazine, TK Magazine and the Topeka Capital-Journal. She has written for several national blogs and was recently recognized as one of the 2011 winners in the Annual Kansas Factual Story Contest. Karen has lived in Kansas for 15 years and married a native Wichitan. Together they are raising two little sunflower boys and a dog named George.