The Dyche Natural History Museum covers the non-human history of our state, but it is more than your normal grouping of "dead animals."  The stories behind the objects are just as interesting as the objects themselves. Here are a few of the tales:[[endteaser]]
The Panorama
Most natural history museums feature a variety of "stuffed" animals, or taxidermy, on display for people to get an up-close view of the birds, beast reptiles and other creatures that once wandered our world. The Dyche Natural History Museum is no exception. Museum literature says it is a display featuring all of North America in 186 feet of exhibit space. It is.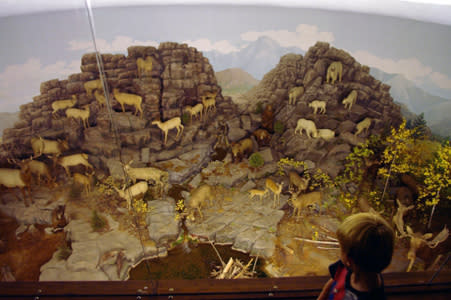 A HUGE diorama greets you when you enter the main floor of the building. Everything from turkeys and tree squirrels to moose, polar bears and walruses are displayed in a sweeping setting that places them in all in the appropriate natural habitat. It travels from the rainforest on the far left through the plains, mountains and forests to the artic on your far right. Pretty impressive.
Just standing in that room alone is an experience, BUT it gets cooler when you consider the history of the collection. These animals are a remnant of the 1898 World's Fair in Chicago. KU professor and Kansan Lewis Lindsay Dyche prepared the display to represent our state. The carefully prepared animals were placed in similar life-like scenes in the Kansas Building at the fair. It was a huge hit, drawing throngs of people to get an up-close view of North American wildlife.
While we are used to seeing stuffed animals displayed this way now, back then it was really a revolutionary idea. What you get to see here see is still, more than 100 years later, considered one of the largest and oldest dioramas of its kind in the world. That's pretty neat, and all you have to do is step inside this building to experience it.
The Horse
The horse Comanche became famous as the only survivor of the Battle of Little Bighorn – Custer's Last Stand. While that was only partially true (because other horses from the Seventh Cavalry survived and were carried off by the victorious Lakota, Northern Cheyenne, and other native tribes) the badly wounded Comanche was severely wounded in the battle and nursed back to health. He was retired at Fort Riley and became a very famous horse in his day. There is even a song written about him. I've read he was one of only two horses buried with military honors. Of course, the question begs, buried? Because of course you can see him at the natural history museum. So that, like the history in the song might not be exactly right, but one thing is certain this horse looks good more than 150 years after his birth.
Prehistoric Creatures
I live in Kansas, where the largest wildlife you are likely to encounter on the prairie is some kind of white-tailed deer. When you see the size of some of the creatures that wandered around here in prehistoric times it's just – well, wild.The prehistoric area displays the variety of skeletons of early mammals. The size of them is what really impressed me. When I think of elephants, I think Africa or India. Not Kansas. I guess my mind frame is just off center by a few million years.The prehistoric area also has some really nice marine fossils from the time in which Kansas laid under a primordial sea.
Bugs and Snakes and such
There are actually quite a few live creatures at the Natural History Museum as well. These help make this super interesting for the kids. They loved the bug area, which is obviously created in a newer style with the interests of children in mind. It's not a large display, but the boys both enjoyed looking at the dead and living versions of beetles, spiders and other creepy crawlies.They also sat in the bug theater where some old horror movies like "Wasp Woman" were debunked by larger than life bug critics. I guess you just have to see that one for it to make sense.On the top floor of the museum, you will find the live snakes. Each of them had dead mice in their cages when we were there. I guess we came right after feeding time, and while we didn't actually get to see a snake eat a mouse, the boys were very interested in the exhibit.
Family Note
This is a very interesting display for kids. They really loved it. Even though I did have to answer the question about why they killed all the animals, the interpretation there explains about nature conservation at the time and how these kinds of displays actually led the way to preserving habitats for animals in the long run.Everything is behind glass, which helps with kids too. There is very little to worry about them touching, except in the bug area where they are encouraged to explore.It is also next to the Kansas Union, which makes a convenient place to stop for snacks after your trip. Park in the visitors parking garage next to the union.
Also, Check out the People History in Lawrence
Of course, Lawrence is also a good place to experience the history associated with the people living of our state. As a stop on the Freedom's Frontier National Heritage Area, you can learn a little more about it at the renovated Carnegie Hall Library. The building, which is now the offices for the city's Parks and Rec Department also features a small gallery that talks about the Bleeding Kansas fight for freedom and the role people from Lawrence and the surrounding areas played in the conflict leading up to Kansas statehood. Stop by there and check it out while you are shopping or eating downtown on Mass Street.

Karen Ridder is a freelance writer living in Topeka. A former News Producer for KSNW-TV in Wichita, her work can also been seen in print publications including: Topeka Magazine, TK Magazine and the Topeka Capital-Journal. She has written for several national blogs and was recently recognized as one of the 2011 winners in the Annual Kansas Factual Story Contest. Karen has lived in Kansas for 15 years and married a native Wichitan. Together they are raising three little sunflower boys and a dog named George.