About 17 women gather one Sunday morning at the Kaw Valley Gun Club in Topeka. Together they fill chairs outside the tiny club as regulars come and go. Meanwhile, the original divas take stage for introductions. [[endteaser]]
Longtime gun enthusiasts, Jennifer Haugh and Becki Rhoades, not only enjoy guns for sport, they grew up learning how to safely use them-a notion they want to pass on. The idea for a female shooting group arose during an outdoor trade show where, as Haugh a certified pistol instructor puts it, "there was nothing for women."
Rhoades, a certified rifle instructor was up for the challenge, noting her treasured experience of having her father help "fit" her for her first gun-a practice she wants to share with others.
Back at the gun club, a short presentation is given on safety and use of guns before the attendees, longtime girlfriends, mothers and daughters and so on, move into the lobby of the shooting range. Here the owner, Kevin, walks the women through the different kinds of guns: 22 caliber, shotgun, 9-millimeter, tiny pink pistols-he's got it all. The women are participating in the Dead Eye Diva's Pistol 101 class.
"So often the ladies we teach have just been handed a firearm and told to point it in that direction and pull the trigger. We see a lot of excitement when they learn something new in this class," says Haugh. "If you only want to shoot once or you want to really be a Dead Eye Diva, that's the class to start with.
After learning about guns, handling them and shooting range etiquette, the gals take to the range. One by one, they were shown how to safely handle and fire a gun.
"Having never even handled a gun before, I found the Pistol 101 class to be just what I needed to feel comfortable around a gun," says participant Jessica Davis. "The ladies provided us with great information prior to even touching a gun followed by a step-by-step process for loading and shooting. I believe that type of education and conversation should be had with any newbie to guns."
Dead Eye Diva is an organization that strives to bring women together who enjoy shooting sports and hunting. By offering opportunities for education and practice, they hope to bring enthusiasts together in a comfortable encouraging environment, as their mission statement reads. They are truly "women shooting with women."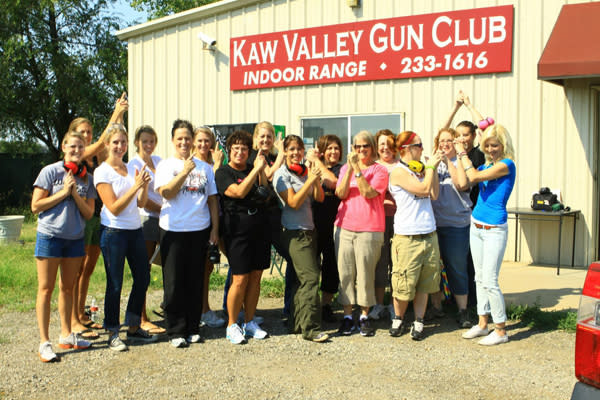 To date, the divas have hosted two Pistol 101 classes and two Conceal and Carry classes, expanding the education for women.
At a recent Conceal and Carry class, spouses were welcomed to join.
"The coed CCH class was well received especially by those who wanted to take the class with their husband or boyfriend," says Haugh. "Still, 17 out of 25 participants were female.
Charismatic instructors, Bill and Dee Regina, cover all the nuts and bolts on firearms training, administer a written and shooting test for permit application, and note that a couple that shoots together, stays together!
As introductions roll around the room, many participants already own a gun, but want to learn more about using it, or be in control with a conceal and carry license. In January, Kansas filled 3,167 applications for permits suggesting the interest is out there.
Amid the much discussed gun laws and tragedies surrounding gun use, the divas maintain their stance on fostering the education and appropriate use of guns-which you will gather quickly at anyone of their classes.
As Bill Regina goes through laws and statutes of gun use, he draws from his own experiences as a former Kansas City police officer, painting all too vivid pictures and scenarios for his students. Much of his class centers on the accidents of owning a gun, to which he says, "your safety is your responsibility."
The divas will continue to host much of the same in 2013 as well as expanding to create a Diva Shooting League and the NRA Women on Target event at Capital City Gun Club (September 13).
"This is something we are passionate about which makes it even easier for us to teach others. We love it when we see that spark for others too," says Haugh.

Katy Ibsen is a writer and editor living in Lawrence. When she's not blogging, writing or serving her community, she's embarking on the outdoor life among Kansas' picturesque landscape.