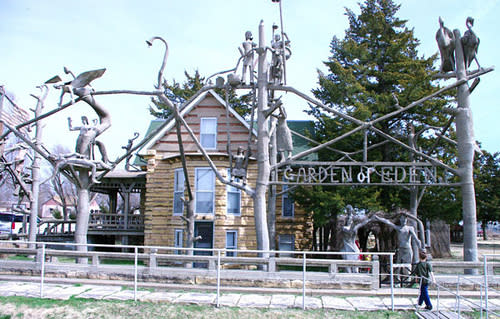 Lucas, Kansas is a town that invites you to stop and stare. Whether or not you like what you see, it will not fail to leave you in "Awe." "[[endteaser]]"
The town, about 15-minutes north of I-70 at exit 206, is best known for
The Garden of Eden
. This early 20th century creation is something you really have to see to fully understand. The "garden" is an outdoor art-scape by Samuel Dinsmoor, a Civil War veteran who moved to Lucas in 1888. After farming for several years, he retired and began to build what he called "The Cabin Home." It was a place to live, but also intended to be a tourist attraction and source of income. In the yard around the home, he created a sculptural environment out of concrete depicting scenes from the Bible and characters representing political issues of the day. However, the most unique thing about The Garden of Eden, and what guaranteed Dinsmoor's home would always be a tourist attraction, is Dinsmoor himself. He is buried under glass in a special mausoleum that only paying visitors can view. That's right. You get to see a dead guy.  However, you CAN avoid viewing the man as well. So, if even that's not your taste, his "garden" is still worth experiencing.
The "awes" in Lucas certainly do not stop at Dinsmoor's house. He was only the first of many "outdoor artists" to leave their mark in the area. The
Grassroots Arts Center
is dedicated to the phenomenon of these artists and others who use ordinary materials in an extraordinary way. Most often the artists have no formal training. They just decide at some point in their lives to start creating out of whatever kind of material they have handy. Many of them, like Dinsmoor, end up creating an entire art environment around them, either in their homes, or more often, outside for the whole world to see. Usually, they start later in life, often at retirement, and continue creating until their deaths. Kansas has a particularly high concentration of these kinds of artists.
I was blown away by the variety of creations at the center. For instance, there are over 800-thousand pop can pull tabs in the works of Herman Divers from Topeka. One room features a portion of the fanciful hanging yard-scape of James Perucca from Overland Park. Over 30 years, he created works from bottles, toys, figurines and other garage sale finds and strung them across his yard. Some of the art is political. Some of the artists are just trying to create a piece that pleases their eye. All of the pieces are unique beyond belief.
Lucas is home to the "World's Largest Souvenir Travel Plate" and "The World's Smallest Mural" painted to commemorate the Kansas 150th Anniversary. It will also soon be home to the most unusual public restroom on record. The exterior of the facility, in a downtown park, is designed to actually look like a toilet bowl, but what makes it most unique are the volunteer-created mosaics of broken glass and other found objects that will cover the walls both inside and out. It's a pot you will remember a lot.
You will probably spend more time in this town than you think. It was a fun stop for the kids who loved looking at the often brightly colored creations and trying to figure out what the art was made of: pop bottles, old bones, broken glass. It was like a scavenger hunt. A lot of the art is outside. They can run around and be surprised by the extraordinary environment Lucas has created around its quirky art heritage.

Karen Ridder is a freelance writer living in Topeka. A former News Producer for KSNW-TV in Wichita, her work can also been seen in print publications including: Topeka Magazine, TK Magazine and the Topeka Capital-Journal. She has written for several national blogs and was recently recognized as one of the 2011 winners in the Annual Kansas Factual Story Contest. Karen has lived in Kansas for 15 years and married a native Wichitan. Together they are raising two little sunflower boys and a dog named George.