What do you do with an old public wading pool after its usefulness has waned? If you are the folks in Salina, you turn it into a patchwork quilt pattern that can be seen from space. The bright colored design provided a unique place for my two boys to run, run, run… on a recent visit to Oakdale Park in that city. It was our first taste of the public art woven into the landscape throughout town.When I was younger, my knowledge of Salina was limited to the Bosselman truck stop and the Bicentennial Center. (It had something to do with college days and a Big 8 basketball tournament - - don't ask). While both are quite nice, I had no idea that the area was home to a vibrant arts scene that creates a fun experience for families.[[endteaser]]
Aside from the art-in-the-park my boys discovered, Salina has developed a variety of ways to make sculpture and artwork accessible for anyone.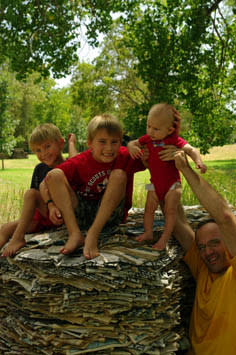 One highlight, if you visit with your kids (of any age), is the "Sculpturetour Salina." The "tour" in the downtown Lee District, features 24 wide-ranging sculptures by artists from across the country. Get a map of the walking tour at any number of downtown businesses. Walk the three block stretch, viewing the temporary sculptures, and then make sure to vote on your favorite sculpture. There are boxes downtown to place your ballot. It is like an outside gallery and everyone gets to put in their two-cents worth about what they think.
Votes will be tallied until April of 2013, the sculpture with the most votes will win the people's choice award, be purchased by the city, and installed permanently in the town's Oakdale Park. (Near where we found the painted pool and a variety of other fun art features.) Last year the winner was a bronze dog. This year? Well, who knows, but sculptures certainly covered a wide-range of styles. I hate to be so cliché, but it's definitely a "something for everyone" selection. Oh, and if you happen to have the means and desire – all of these sculptures ARE for sale.
While you are in Salina, you can visit the Salina Art Center (on the same street where you will find the sculptures) or the Smoky Hill Museum. Both are really nice with interactive elements. If you visit this month, you'll want to check out the Salina Autumn Fest on September 22 & 23. Like many Kansas festivals, it throws together the best of the region including, a street fair with crafts and music, an Oktoberfest with German beer and food, PRC Rodeo finals and a car show. For a weekend getaway, there will be plenty to do.

Karen Ridder is a freelance writer living in Topeka. A former News Producer for KSNW-TV in Wichita, her work can also been seen in print publications including: Topeka Magazine, TK Magazine and the Topeka Capital-Journal. She has written for several national blogs and was recently recognized as one of the 2011 winners in the Annual Kansas Factual Story Contest. Karen has lived in Kansas for 15 years and married a native Wichitan. Together they are raising three little sunflower boys and a dog named George.