The Tanganyika Wildlife Park takes a wildly different approach from other experiences I've seen in Kansas. While many zoos are gradually putting visitors further and further away from the animals, this park invites you for an up-close hands-on experience.

[[endteaser]]

 

If you go, you will get to do things like: feed a rhinoceros; ride a camel; pet a kangaroo; have a rainbow colored birds fight for landing space on your back; and get tickled by Lemurs running across your lap.  

Given my mostly-traditional zoo experiences, before we went, it was a little hard to understand how the Tanganyika Wildlife Park could actually provide all of those interactions - and more. They do it with an interesting mix of open pens and traditional enclosures that keep both animals and visitors safe. It provides a unique experience.

When we walked in, a black panther greeted us in a cage you could walk all the way around. It sounds simple, but it was cool.

We first ran to the rhino feeding, which is the only animal you actually have to feed on schedule. He gets tired of standing there if they try to do it all day long. What a strange thing to do. It felt like getting up close to a dinosaur. His beak-shaped mouth opened wide as I tossed in potatoes and carrots. I even got to pet him. I absolutely never thought I'd have the chance to do THAT in this lifetime.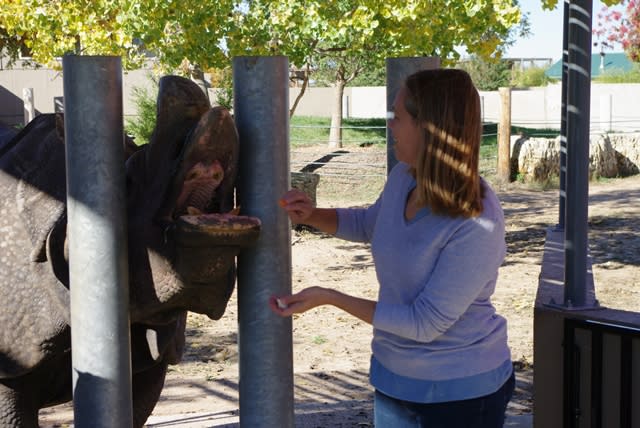 Then we went to the Lorikeet enclosure, where a very informed keeper told us all about the birds and assisted us in feeding them.
One thing I appreciated about this interactive zoo experience is the practical requirement of knowledgeable workers to man each station. They give you a great amount of information about the animals you are experiencing. I know they are there to protect the animals - and us, but it really improves the overall experience of the visit.
If you go, the cost is about $14 for adults and $9 for kids, BUT you really need to plan on also getting the green arm bands for an additional $9. If not, you will be wishing you did. You can buy individual dollar-a-piece tokens for each feeding station, but it can get pricey pretty quickly. Some of the stations require more than one token. You really don't want to have to tell your kids, "No" on this one. So, I recommend just planning to spend between $20 and $25 a head. They do offer senior and military discounts.
Another great thing about the park is the size. It is big enough to certainly be worth the price of admission, but not so large that you will get over-tired. A pavilion in the center of the park provides concessions, and there is a nice TALL play area for the kids. True to the age of my kids and my experience at other zoos, my boys would have just as soon preferred to spend a LOT more time at the play set. But when I said, "Don't you want to feed a Lemur?" They hopped to it pretty quickly. I mean, how can any kid pass THAT up?
Your teens will like this park too. I think it would be great for a family with kids of a variety of ages. I saw middle schoolers there having a great time giving carrots to guinea pigs, and my toddler was thrilled by the baby kangaroo and bunnies. It's not so much a "wow" experience, but rather something that will give everyone in the family a reason to say "cool."
The Tanganyika Wildlife Park is only open for one more weekend this fall - November 8, 9 & 10. It is open weekends from Spring Break until the first of November and daily in the Summer.

Karen Ridder is a freelance writer living in Topeka. A former News Producer for KSNW-TV in Wichita, her work can also been seen in print publications including: Topeka Magazine, TK Magazine and the Topeka Capital-Journal. She has written for several national blogs and was recently recognized as one of the 2011 winners in the Annual Kansas Factual Story Contest. Karen has lived in Kansas for 15 years and married a native Wichitan. Together they are raising three little sunflower boys and a dog named George.