So, I found out why the Table Mound Trail is repeatedly mentioned as one of Kansas' best trails.
Challenging, but doable – check!
Easily accessible – check!
Family-friendly – check!
Great location – check!
Nice length – check!
Stunning scenery – CHECK!!!
It really does seem to have it all, especially for those who don't want a super-long hike.
The 2 ½-mile trail begins in Elk City State Park, a real gem of a campground with shaded sites, beach, great fishing and simple access to one of the most unheralded reservoirs in Kansas.
Table Mound Trail started lakeside, with some great views as I paralleled the shoreline before meandering up towards one of the highest ridges in southeast Kansas. Higher and higher the trail wound through a perfect example of mature oak and hickory forest. But the real gems of the trek were at the end of the trail, at the top of the rock-studded ridge.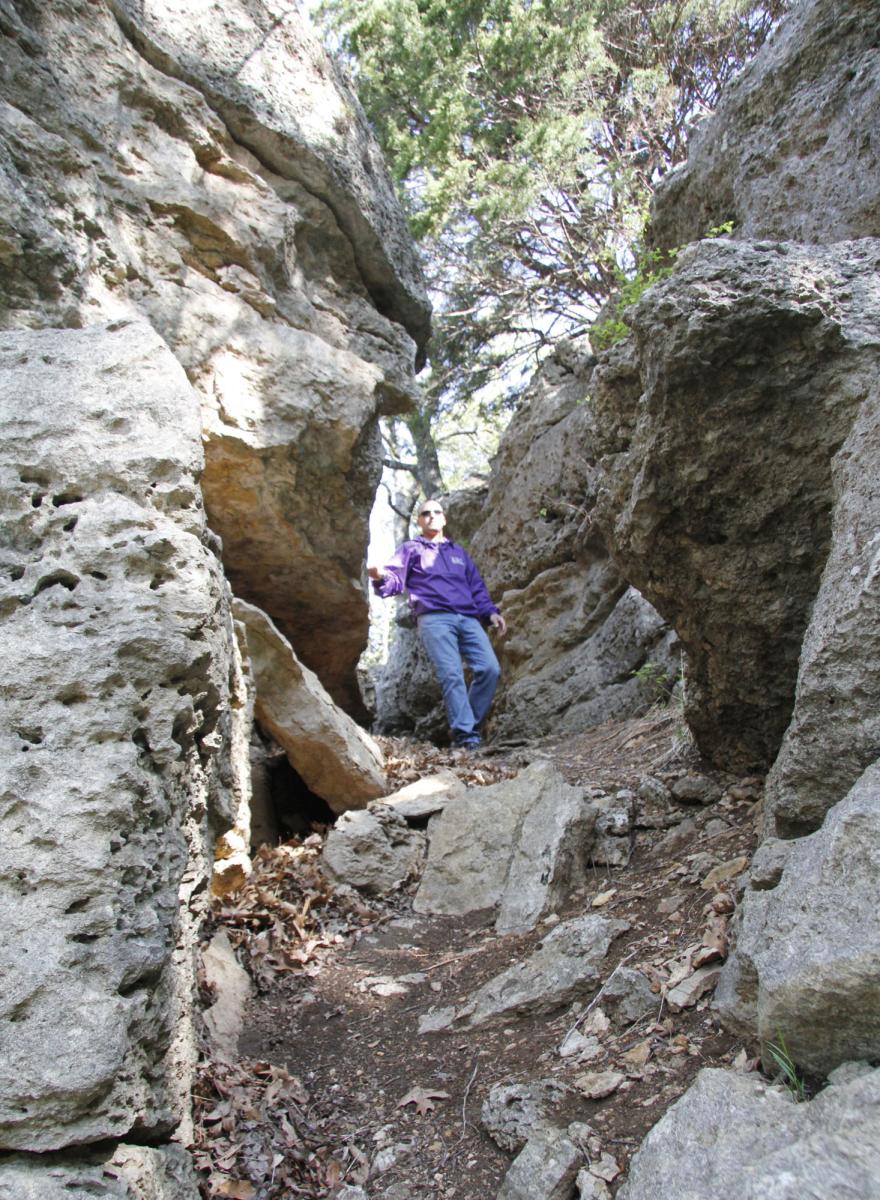 Some of the rocks atop the ridge were literally bigger than places I lived in college. Through the eons gravity had tugged some enough to create passages so narrow I was glad I had burned off a quite a bit of breakfast on the climb up.
As if the strain of that climb wasn't enough to make me want to stop for a rest, I didn't want to rush through the rock formations. Many were covered in huge tapestries of velvety moss and lichens. In the spring, I'm sure delicate columbine flowers sprout, miraculously, from hairline fractures in the stone. The region is famous for its redbud jungles, usually in early April.
The entire jumble of giant boulders is a great, natural playground for kids, but adults need to supervise where they climb. There are some loose rock slides in a few places, and many of the boulders are tall enough a fall could lead to injury. There are still plenty of safe places.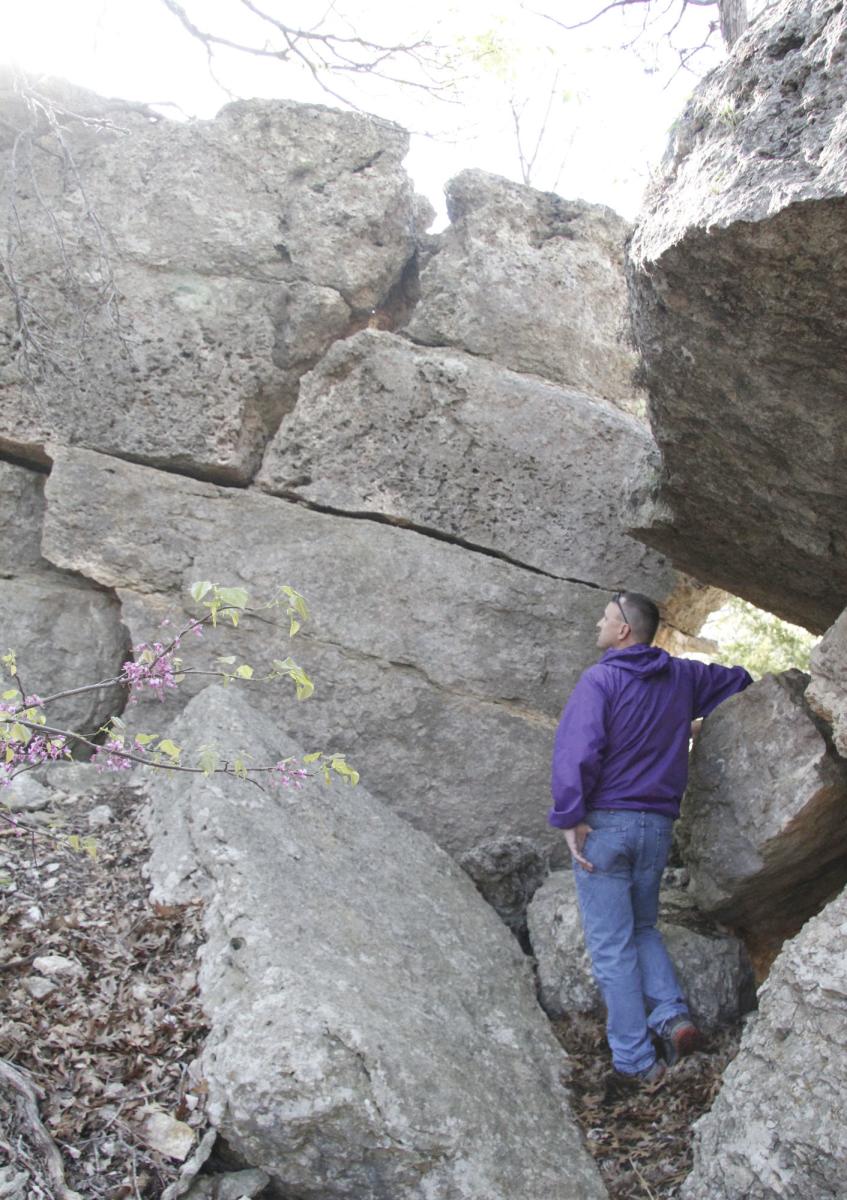 People who want to just experience the ridge can actually drive and park in a lot atop the hill, and find a way to drop down into the giant rocks. A pick-up vehicle could also be dropped up at the same parking lot for those who don't want to descend the trail back to the state park. Some enterprising hikers have left bikes padlocked and chained at the parking lot.
That way after climbing the trail they can use their bikes to glide back to the trail head in Elk City State Park.
Thanks to the trails modest length I had plenty of time to explore the park. There was no shortage of great campsites. Even if a day-tripper, there seemed plenty of places for picnics. A shower as soon as exited the trail would have felt refreshing and minimized the chances of later dealing with chiggers or a tick. Wish I'd have thought of it at the time.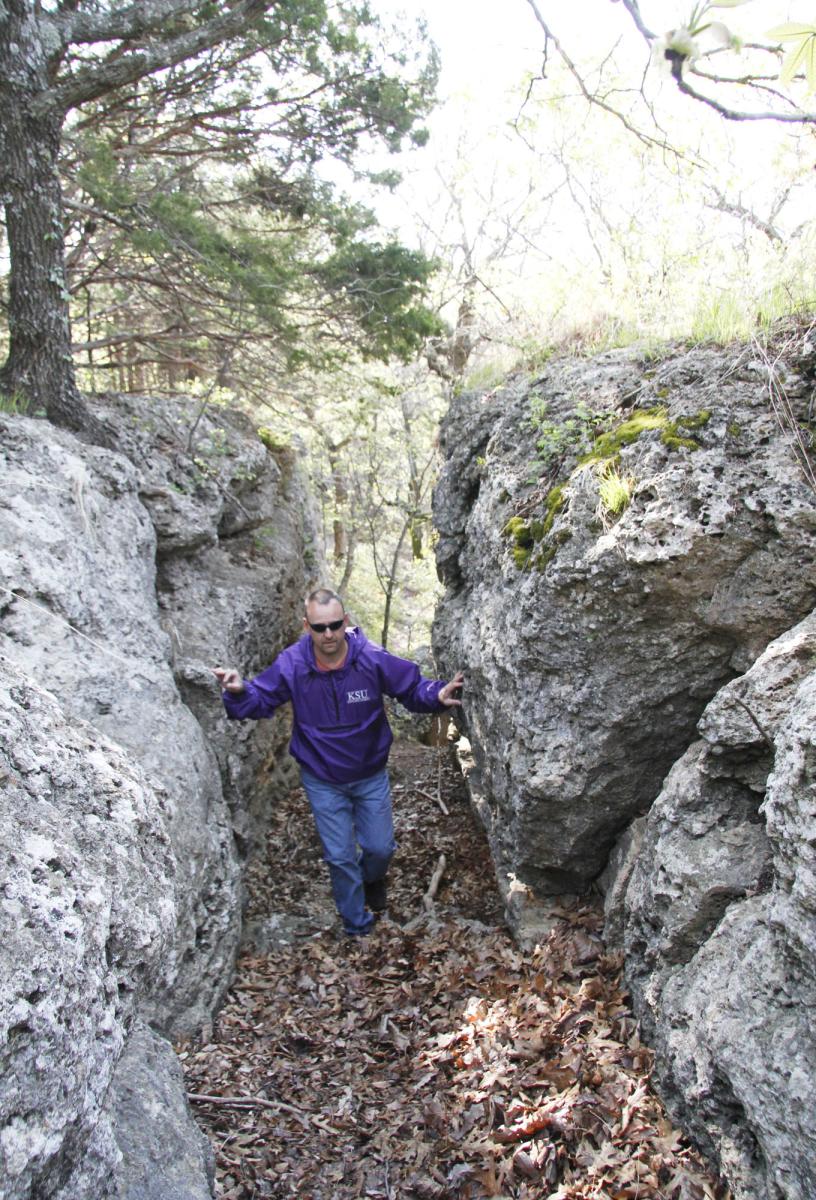 It might also help someone get refreshed enough to tackle other trails near Elk City State Park. It's a great place to base from for a full weekend of great Kansas hiking!
Next, the famous Elk River Trail!