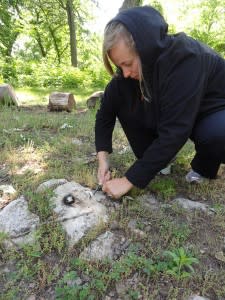 Following the Flint Hills Scenic Byway on my drive to Rock Springs 4-H Camp, I found myself growing more excited with every passing mile. The Becoming an Outdoors-Woman KANSAS workshop (BOW) was something I had looked forward to for weeks. I planned, packed, settled my husband and kids, and after much anticipation, finally rounded the corner and got my first glimpse of my home for the weekend, Hansen Cabin.

The parking lot was a hive of activity as women from all over the state began to arrive. When I found my room and bunk, I was surprised to discover a BOW backpack filled with a few goodies and supplies for the weekend. I got settled a bit, grabbed my new backpack and map and headed out on my way to introductions and lunch. Walking the path away from the cabin, Rock Springs immediately drew me in. The walkways are relaxing and shaded, meandering through many beautiful, mature trees, over quaint bridges, and around stone seating areas.[[endteaser]]

Lunch was my first "taste" of a favorite ritual at BOW. Everyone eats together in the dining hall at the scheduled meal times. The three, buffet-style meals were a fun break during the busy day to enjoy conversation and camaraderie with new-found friends. At home, most of the meal planning and preparation is my responsibility. Just showing up and enjoying the tasty, nutritious meals prepared by the friendly Rock Springs kitchen staff was truly a treat! After lunch, we headed to our first sessions. At home, I had poured over the registration form and list of classes available. I was barely able to narrow the options down to my top four choices.

Canoeing, Orienteering, Archery, and Wilderness Survival did not disappoint! Not only did the instructors do a fantastic job teaching and guiding us through lots of new information and skills, but they did it in a fun, laid-back, atmosphere. Women came to class with various skill levels and the instructors were eager to help and seemed to have as much fun as we did. I was particularly thrilled with the amount of time we spent outside applying our new skills.

We canoed for hours practicing our new strokes, found our way around Rock Springs using a compass in Orienteering, shot literally hundreds of arrows, and started fires in Wilderness Survival!

During my evening free time, I explored Rock Springs with my camera while getting to know new friends.  I wanted to take advantage of every moment there, so I headed back in time for the evening mini-sessions. Again, there were so many exciting choices, but over the weekend, I was able to learn how to make survival bracelets, wilderness first-aid, and papermaking. My evenings at BOW weren't complete without a trip to the campfire for a s'more (or two).  I crawled into bed each night feeling tired, yet proud and satisfied.

I would love to be able to pick a favorite class or name a BOW "must-do", but my absolute favorite parts of BOW were the connections I made with other outdoor-women. Whether we were teaming-up in a canoe, breaking bread at meals, gabbing around the campfire, or giggling from our bunks after we turned out the lights, the memories I made bonding with these girls are easily my most treasured.

We packed up Sunday afternoon and said our good-byes. The parking lot was again buzzing with activity as stronger, more skilled, more confident women loaded their cars. As the Flint Hills Scenic Byway led me home, I realized BOW had done something really remarkable. Throughout the weekend I felt both challenged and pampered all at the same time. I had felt both giddy like a kid at camp and strong like an outdoors-woman. I am eagerly awaiting the June registration for the BOW Fall workshop. I hope to share the fun and bring some friends with me. I can't wait to go back to camp!

 

Sara Brown was selected as the winner of the Becoming an Outdoors Woman contest we posted in February. She wrote this post sharing her experiences at BOW as a guest blogger for Kansas Tourism.