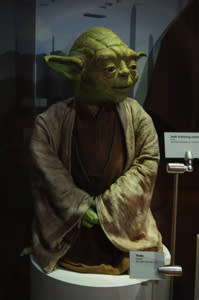 May the Force be with you while exploring Star Wars®: Where Science Meets Imagination at Exploration Place in Wichita. Peer into the future through this blockbuster exhibit focusing on the Star Wars film series that became a worldwide pop culture phenomenon. Fans will enjoy artifacts from all six films while those interested in the science behind the fantasy technologies and how it relates to today's world also will have plenty to see and do. You don't want to miss this national traveling exhibit from May 25 to Sept. 3 because once it leaves Wichita, it will be displayed in cities so far, far away they might as well be in another galaxy. [[endteaser]]
View an original Yoda puppet, Princess Leia's costume, and numerous lightsabers among the more than 80 costumes, models and props from the movies that took us traveling through space with Darth Vader, Obi-Wan-Kenobi, C-3PO, and Luke Skywalker.
Examine Luke's original Landspeeder and then sit inside a hovercraft and feel like you're floating in air. Explore our own galaxy inside a replica of the Millennium Falcon's cockpit. Meet C-3PO and R2-D2, examine robots used in today's world, and then try your hand at designing and manipulating your own androids. These hands-on, interactive activities focusing on transportation and robots are part of the 8,500 square foot exhibit, the largest ever at Exploration Place.
And beware, you might even encounter Darth Vader or a Stormtrooper during your visit as several costumed characters bring the exhibit to life most weekends.
After exploring the future, step back in time across the river at the Keeper of the Plains. This 44-foot tall steel sculpture stands where the Big and Little Arkansas rivers join, sacred ground to Native Americans. The Indian warrior sculpture was created by Wichitan and Native American artist Blackbear Bosin in celebration of the nation's bicentennial. A newer plaza area features displays describing the Plains Indian way of life and plantings of native grasses. The "Ring of Fire" - fire drums on boulders - burns for 15 minutes at 9 p.m. each night in the summer, depending on weather and river conditions.
Will you travel to Wichita to see the Star Wars exhibit? What else will you do while you're in town?
*Each Star Wars photo: ©2012 Lucasfilm Ltd. & TM. All Rights Reserved. Used Under Authorization.
Exploration Place photo: Courtesy of Exploration Place
Keeper of the Plains photo:  Courtesy of Go Wichita CVB/Merrill Thomas
Cecilia Harris is a professional freelance writer from Abilene who enjoys discovering fascinating attractions, events and people that reflect the arts, culture and heritage found in Kansas. She has been a longtime regular contributor to KANSAS! magazine and also has written for such publications as Midwest Living, Sunflower Living, Kansas Heritage and The Greyhound Review to inspire others to explore and appreciate her home state. She also has authored two books, "Historic Homes of Abilene" and "Abilene's Carousel."