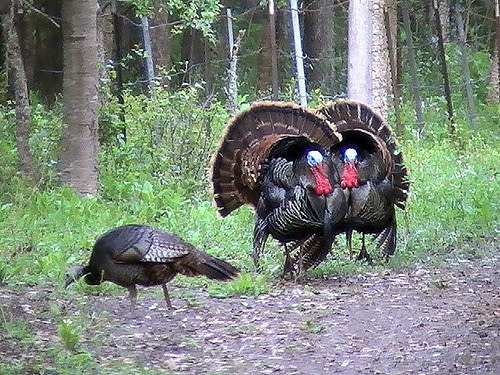 Spring turkey season is one of the most anticipated hunting seasons of the year. The landscape is turning green again and the toms (male turkeys) are strutting their stuff.  After a long, cold winter it is a sure sign that spring has arrived and summer is right around the corner. While the sound of a gobble is highly recognizable to most everyone, it is also one of those sounds that can immediately quicken the heartbeat of any turkey hunter.
I was introduced to turkey hunting by a friend and a self taught outdoorswoman. Her excitement and passion for the sport led me straight into the field, following in her footsteps. Turkeys are so populous in some Kansas areas that they are often tagged as pests. In the field, though, there is nothing as special and grand as calling in a big, beautiful tom and watching him fan his feathers and strut his stuff.  It is even more special to call in two or three large toms and watch them fight it out, a turkey turf war of sorts.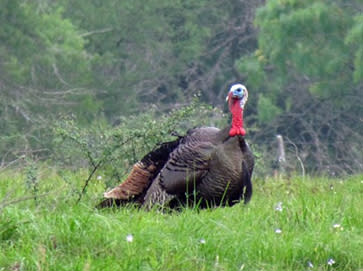 The majority of turkeys in Kansas are of the Rio Grande subspecies. The Eastern subspecies is present in most of eastern Kansas and there are quite a few areas where one can find the Rio Grande-Eastern hybrids. In far southwest Kansas, the turkey population tends to be a Rio Grande-Merriam hybrid. The 2012 spring season in Kansas is actually two months long, a mix of archery, muzzleloader, and shotgun seasons, giving hunters plenty of opportunities to get in the field. The even better part? Kansas also offers a fall season, just in case you can't get enough.
The one thing to always remember about turkeys is that they are predictably unpredictable. Focus on scouting and learning about the area you plan to hunt, knowing where the turkeys are and their habits help ensure success. Turkeys communicate with a wide range of vocal calls such as yelps, clucks, gobbles, putts and whistles. Quality calls and good practice are essential to bringing a big tom within firing range. Another challenge that hunters face is keeping still and blending in. Turkeys have amazing eyesight and can spot movement easily. Head to toe camouflage in the wrong pattern can easily give you away and ruin your hunt.
Wild turkeys are remarkable, beautiful animals, and hunting them gives a person the opportunity to experience and appreciate them in their natural habitat. There are some things that just can't be experienced through a textbook, and Kansas has opened the doors for everyone and anyone to have the turkey hunt of their dreams.
 Photos courtesy of Jim Burnes and Jennie Reichert.

Elizabeth Peterson is a lifetime resident of Kansas, an avid outdoorswoman, and a new mom. She spends her free time in the great outdoors, hunting and fishing, and writing about her life and passions on her personal blog DeerPassion. You can also find her on Twitter, @DeerPassion.