Southeast Kansas is home to some of the most secluded, yet compelling, fishing opportunities in all of Kansas.  Known as the Mined Land Wildlife Area, almost 14,500 acres of land and over 200 lakes are home to several species of fish, from catfish and largemouth bass, crappie, sunfish and bluegill, to brown and rainbow trout.This area offers ideal fishing and extraordinary wildlife opportunities. 
[[endteaser]]
As mentioned, the fish that these lakes have to offer are numerous and varied. Some of these lakes were created and are managed only for certain species, including a 28 acre trout lake stocked exclusively with rainbow and brown trout. A trout stamp is required to fish this lake, and considering all the differences in the lakes and species, be sure to check the regulations and all posted notices before fishing. There's also a waterfowl refuge, and several marshes have been designed specifically  to attract waterfowl and hunters.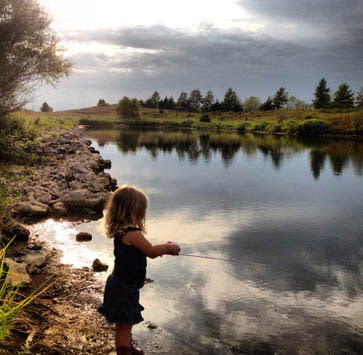 The Mined Land Wildlife Area came into being from years of strip mining the area for coal. Strip mining is the process of mining a seam of mineral by removing the top layers of soil and rock. It's also widely frowned upon because of the destruction to the land, and the wreckage it can leave behind. However, most of the land in this area was donated to the State of Kansas by the mining companies, which gave rise to one of the best overall wildlife areas in the Midwest.
As the company would mine a seam of coal, it left behind long, gaping chasms in the land, which eventually became the lakes that you see today. With the overlying soil and rock piled high on each side of the lake it makes for extremely steep banks, yet keeps the Kansas wind at a minimum, leaving the water crystal clear and reflective.
While some of the lakes are said to be up to 60 feet deep, most are narrow, so smaller fishing craft work best.  Swimming is not allowed.While visiting the area, the thing that caught me off guard the most was the overwhelming beauty. It's like being transported into the pages of a wildlife magazine, filled with luscious woodlands, crystal clear lakes, and picturesque allure.  Every lake, every drive, every little turn offers you some new attraction, challenge and excitement. It's a fisherman's paradise, a photographer's dream, and is simply a little slice of heaven.

Elizabeth Peterson is a lifetime resident of Kansas, an avid outdoorswoman, and a new mom. She spends her free time in the great outdoors, hunting and fishing, and writing about her life and passions on her personal blog DeerPassion. You can also find her on Twitter, @DeerPassion.