The State of Kansas may not be top of mind among the country's soccer hotbeds, but the sport's remarkable growth in popularity and widespread participation at all ages—not to mention the development of world-class facilities at the youth and professional level—give a clear indication that Kansans have fully embraced the game.
Look no further than Wyandotte County, a vibrant portion of the Kansas City metropolitan area that boasts three state-of-the-art, soccer-specific venues that welcome thousands of soccer players and fans annually.
Children's Mercy Park
Children's Mercy Park, the renowned home of Major League Soccer club Sporting Kansas City, hosts upwards of 20 matches per year with crowds regularly exceeding 20,000 passionate supporters. Since opening in 2011, the stadium has established itself as a premier sports and entertainment venue in the United States and one of the best soccer-specific venues in the world, notably winning the 2012 StadiumBusiness Awards Venue of the Year. Over the last decade, Children's Mercy Park has welcomed hundreds of thousands of fans for the country's biggest soccer matches, hosted championships at the college, professional and international levels, and become a stop for famous musicians. Among the stadium's most notable events hosted are the 2013 MLS Cup, the 2013 MLS All-Star Game, the 2012 and 2017 U.S. Open Cup Finals, a combined 10 matches featuring the U.S. Men's and Women's National Teams, four NCAA Division II Football National Championship games and concerts such as Farm Aid and the Flatlands Country Music Festival.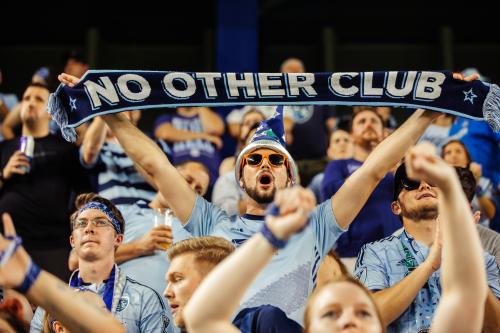 Pinnacle National Development Center
Located less than a mile from Children's Mercy Park, Pinnacle National Development Center is the training home of Sporting Kansas City as well as the site of the U.S. Soccer National Development Center and the Children's Mercy Sports Medicine Center at Village West. The facility is a first-of-its-kind collaboration between a professional sports team (Sporting KC), a national sports federation (U.S. Soccer) and a sports medicine provider (Children's Mercy), welcoming tens of thousands of visitors annually as a premier destination for the development of elite players, coaches and referees of all ages. Since opening in early 2018, Pinnacle has hosted the U.S. Men's and Women's National Teams, hundreds of courses within the U.S. Soccer Coaching Education program and welcomed guests from across the country for soccer-related and civic events and celebrations. The facility earned a 2018 Silver IIDA Mid-America Award for its excellence in healthcare.
Youth Sports Complex
Situated near Children's Mercy Park and Pinnacle, Wyandotte Sporting Fields is a 52-acre complex that features 12 playing fields, four with natural grass and eight with cutting-edge synthetic turf. The facility hosts soccer tournaments, leagues and practices on a year-round basis while periodically hosting kickball, volleyball and community events. Welcoming approximately 800,000 annual visitors since opening in 2017, Wyandotte Sporting Fields has provided the setting for prominent events such as the Sporting NextGen Invitational, Patterson Cup and Sporting Classic as well as the Sporting Recreation League and numerous Sporting KC Camps.
While Kansas City may be the state's flagship destination for soccer in the Heartland, numerous other Kansas communities wield reputable facilities for the sport. Rock Chalk Park at the University of Kansas in Lawrence and Kansas State Soccer Stadium in Manhattan are cutting-edge soccer stadiums that host games at the NCAA Division I level, Stryker Sports Complex in Wichita is a leading indoor/outdoor soccer venue for south-central Kansas, and Overland Park and Olathe in Johnson County both offer dozens of synthetic-turf fields fit for year-round use.
Kansas' Soccer Stats
A defining trait of soccer in Kansas is the sport's extensive participation among youths. For example, the Kansas State Youth Soccer has a current membership base of over 26,000 youth players, 1,600 active coaches, 1,600 referees and thousands of volunteers through its network of over 30 affiliate member leagues/clubs across the state.
The State of Kansas has an undeniably rich soccer history at the professional level, dating back to the late 1970s when the Wichita Wings took the Major Indoor Soccer League by storm. Consistently attracting crowds of over 10,000 people at Kansas Coliseum, the Wings were a perennial playoff contender in the MISL and later in the National Professional Soccer League.
As recently as 2011, the state of Kansas officially welcomed a Major League Soccer team for the first time when the Kansas City Wizards—previously located in Missouri—moved across the state line and rebranded to Sporting Kansas City. Opening night, June 9, 2011, was a spectacle at Children's Mercy Park. A standing-room-only crowd was treated to all the pageantry and excitement they could handle from the new, sparkling crown jewel of American soccer.
invalid widget [plugins_collections_template_custom_video_player] [custom_video_player]
The following season would confirm Sporting's ascendancy as a model MLS franchise, with head coach Peter Vermes' men lifting the club's first trophy in nearly a decade as winners of the 2012 U.S. Open Cup. That breakthrough set the stage for a magical 2013 year in which the stadium became the focal point of the U.S. Soccer calendar, playing host to the MLS All-Star Game, a World Cup-clinching qualifier for the U.S. Men's National Team and its biggest event to date: MLS Cup 2013. On December 7, 2013, after an exhilarating and nail-biting run through the playoffs, Sporting defeated Real Salt Lake in an epic championship match to reach the pinnacle of American soccer.
It was too early to lock the trophy case just yet, as more championships would follow. Overland Park native Matt Besler anchored a perennially stout backline and helped Sporting to U.S. Open Cup glory in 2015 and 2017, with the club claiming an unprecedented four trophies in six seasons.
At Pinnacle's grand opening in the spring of 2018, coaches, dignitaries and prominent soccer figures alike gathered to celebrate the flagship facility and its seismic impact on the sport. Among them was MLS Commissioner Don Garber, who not only showered praise on Pinnacle but spoke more broadly to Kansas' meteoric rise in soccer stature since the turn of the decade.
"There's a lot said about the big cities and the big markets," Commissioner Garber said. "But the model franchise for Major League Soccer is right here." As a new decade of soccer in Kansas begins, the table is set to continue that meteoric rise.