Fifty years ago, Dwight D. Eisenhower used a silver shovel to break ground for the presidential library in Abilene that would bear his name and hold his papers. He chose May 1st in 1962 as the dedication day for the new building because it would have been his mother's 100th birthday. [[endteaser]]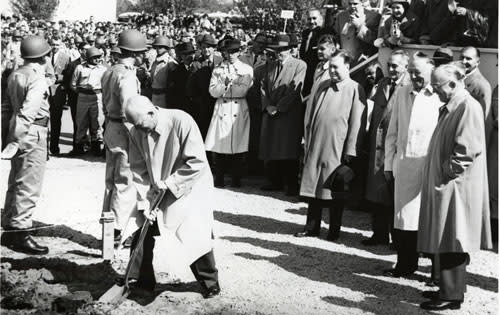 These days, when you visit the Eisenhower Presidential Library & Museum, it is easy to be a bit mystified by what goes on in the library building itself. The stacks are closed. Only staff and registered researchers are allowed to view the materials stored there.
BUT, a new exhibit celebrating the library's 50th anniversary (January 20, 2012 to March 31, 2013) gives a rare look behind the scenes. Museum Curator William Snyder, Exhibit Tech Troy Elkins and Communications Director Samantha Kenner discuss the library and what you will see at this new exhibit:
What do you think is the biggest misconception about a presidential library?
People who visit often wonder, "Where are the books?" You won't find stacks of books there because the Eisenhower Presidential Library is essentially a manuscript repository. Kenner explains, "We hold the manuscripts of the president. We're fortunate that we not only have the presidential years, but we also have the pre and post years, along with the papers of about 450 of his associates, for a grand total of 26-million pages."
So, are there ANY books?
The library also does actually have books as well, the largest collection of any of the federal libraries. What is interesting about these books is that many of them were owned by the Eisenhower family and read by the president himself. "Ike would take notes or doodle in the margins of the books. So you can see Ike's thoughts on the person's work. We even have some of his text books from West Point where he was not very complimentary to his professors," said Snyder.
What else surprises visitors about the holdings at the Eisenhower library?
Many of the papers are still classified and under a release schedule set up by federal regulations. Last year, at the fifty year mark of Eisenhower leaving office a whole new batch of papers were able to be released. There are several new books on Eisenhower scheduled to come out in 2012 as a result of those papers.
How will the exhibit help visitors understand the library?
The exhibit will be set up as a mock set of stacks and research table including all of the papers and documents that you might see on a research table at the library. Elkins said, "People can look and see and understand what's going on. We're going to rotate the documents which will help tell the story of the variety of documents we have."There will also be a focus on preservation to show what happens when documents are not preserved well. "This is the kind of stuff that will go on at your own house with your own documents if you don't preserve it," explains Elkins.
What will be unique to see in the exhibit?
The library collection also includes documents from the founding fathers and Civil War era papers. The 50th Anniversary exhibit will give the general public a rare chance to see some of these papers on rotation including papers of Presidents Washington, Jefferson, Adams and Madison as well as Civil war era documents that include papers from Abraham and Mary Todd Lincoln and Robert E. Lee.
What is the most important "take away" from the library exhibit?
The exhibit will show the work that goes into preserving our nation's history. "This is what we do. We preserve the documents, the books and artifacts of a president and his time. There is an awful lot of behind the scenes work that people unfortunately don't get to see when they walk into the lobby of the library," explains Snyder.When you visit the library, don't miss the museum across the complex that displays focuses on Eisenhower's life. A special exhibit looking at the lesser known accomplishments of Eisenhower as an "Agent of Change" will be coming down on January 30. Curators will replace it with a traveling Smithsonian exhibit called "Elvis at 21" (April 7, 2012 to July 1, 2012) It is a series of photographs of Elvis Presley at age 21, which was in 1956, when who was president?  Eisenhower, of course.

Karen Ridder is a freelance writer living in Topeka. A former News Producer for KSNW-TV in Wichita, her work can also been seen in print publications including: Topeka Magazine, TK Magazine and the Topeka Capital-Journal. She has written for several national blogs and was recently recognized as one of the 2011 winners in the Annual Kansas Factual Story Contest. Karen has lived in Kansas for 15 years and married a native Wichitan. Together they are raising two little sunflower boys and a dog named George.