A Faces & Places Roadie Blog  
So many times when I'm at a Faces & Places event or traveling between festivals, I'm overcome by the shape of the landscape or the interest of a building. Instead of reaching for a camera, my personal tendency is always to reach for my notebook, ask some questions, have a seat on a bench, and "take it all in." I am passionate about my home state, and I'm thrilled to promote the unique beauty and personality of Kansas. I'm also moved by the images that appear on the TravelKS Facebook timeline.[[endteaser]]
Thankfully, I have an Aunt Debbie who photographs my sons' birthday parties. The reason she does this is because I do not. It's not that I don't value the photos or that I am incapable of a decent snapshot. It's just that I find it difficult to listen and interact while I have a camera in my hands. I am not a competent multi-tasker. This past weekend as I traveled to the Jammin' in JC event in Junction City and the Scottish Festival in McPherson, I had the opportunity to borrow a nice camera, and I learned that Kansas appears very different through a lens.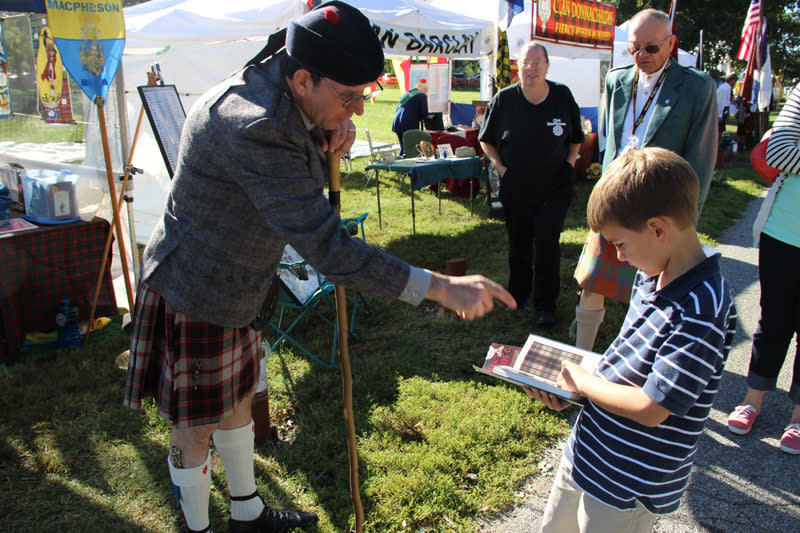 My standard roadie gear includes a bag filled with pens, paper, sunscreen, and some bundles of giveaway guidebooks and maps. Add one serious-looking camera, and suddenly I had an "in" to all sort of interesting conversations. After getting past the uncomfortable, "No, I have no idea what kind of lens I'm using," I discovered that people accustomed to taking photos are very willing to share stories about interesting places they've traveled or photos they're especially proud of.
Photography also provides a free pass to the very best seats in the house. At the Blues Fest in Junction City, I headed directly to the front of the stage because I had a reason to be there. I was right in front of the speakers, and I loved it. My focus changed: instead of tuning in to smells and conversations, I noticed the soft evening light and the guitarist's unusual insignia ring. Through my lens, I framed couples dancing. I observed their expressions without feeling intrusive.  
I appreciate now how a camera in hand centers one's attention on details. The morning worship service in McPherson involved all the clans parading in full regalia. Lined up beside one another, the tartans were full of contrast, and the effect was stunning. A young musician performing with the City of McPherson Pipe Band initially caught my eye because of a single long braid down her back. While adding some interest to the photo, it also made me happy to think about the heritage of the festival and the importance of multi-generational involvement in civic events.
I am very certain that photography is an art and a talent, and, truthfully, my photos are really no better than the ones I typically take. I'm embarrassed to say some of my "best shots" were lost due to (umm) technical difficulties. My experience was different. Oftentimes I felt rushed to try and capture an interesting moment - and then ended up feeling disappointed because I missed the experience. I am still much more comfortable reaching for my notebook, but I'll ask to borrow the camera again. Aunt Debbie isn't going to live forever.

Jessica is a teacher, librarian and mom who lives in Holton. She loves all things summertime: Gardening, lazy days at the lake, farmers' markets, and family vacations. Some of her favorite Kansas places include the Art Lab at Washburn University, the Topeka Shawnee County Public Library, the Konza Prairie and Main Street in Newton. She joined the 2013 Faces & Places Tour because it is an exciting opportunity to explore and write about her home state - and drive a really cool van.