The faces of three young boys from an orphan train peer out, their forlorn looks forever sculpted in brick on a busy street corner in Concordia. Having three sons, I quickly spotted the boys among the two dozen or so realistic scenes depicting the story of Cloud County on the three-dimensional Whole Wall Mural. Measuring 140 feet, this amazing piece of art is currently the longest sculpted brick mural in the country—and possibly the world! Standing before the mural, I began playing a game of "I Spy," finding pioneers planting seeds, coal miners and bricklayers at work, a 1928 biplane, a wooded windmill, grain elevators, a John Deere "A" tractor, a schoolhouse, a church, a train, and an iron truss bridge over the Republican River I remember crossing as a kid when my family drove from our farm near Cuba to shop in Concordia.[[endteaser]]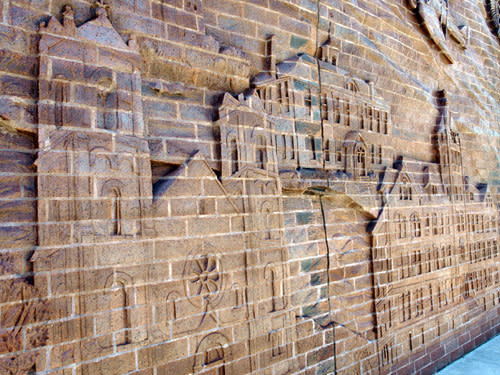 Stepping inside the building used as a tourism information center and the Cloud County Historical Society's museum annex, I learned the mural is the work of two artists considered pioneers in brick sculpting. They carved the mural on 6,400 bricks—each weighing 26 pounds before firing—of Dakota clay found in the area. Cloud Ceramics, a longtime local brick manufacturing company, donated the bricks and the firing, paving the way for the Historical Society to cover the ugly exposed wall of the building it had purchased at a major intersection.
On a return trip to Concordia, I plan to spend the day visiting several of the sites I found on the mural, such as the Brown Grand Theatre, the Nazareth Convent, the National Orphan Train Complex, and the World War II POW Camp Concordia.
Is there a brick mural or other artwork made of brick in your community?
Cecilia Harris is a professional freelance writer from Abilene who enjoys discovering fascinating attractions, events, and people that reflect the arts, culture, and heritage found in Kansas. She has been a longtime regular contributor to KANSAS! magazine and also has written for such publications as Midwest Living, Sunflower Living, Kansas Heritage, and The Greyhound Review to inspire others to explore and appreciate her home state. She also has authored two books, "Historic Homes of Abilene" and "Abilene's Carousel."