The museum that bears the name of Martin and Osa Johnson is not exactly what you'd expect to find in the middle of Kansas. Then again, Martin and Osa Johnson were not exactly your run of the mill people. [[endteaser]]
Osa Johnson's famous memoir, "I Married Adventure," uses that one sentence to pretty much sum up the amazing story of the Johnsons and their vaudevillian era adventures around the world. They explored the world, nearly a century ago, taking photos and film of exotic places, people and animals in the South Pacific, Borneo and Africa. What the Johnsons documented fascinated audiences of the movies and books they produced about their trips then and still does today.
Martin, who grew up in Lincoln and Indepencence, and Osa, a Chanute native, became famous adventurers in a time before quick online information sharing and a global culture. They brought the existence of tribal people to life for thousands of Americans. They also succeeded in documenting many cultural and tribal phenomenon that have long since disappeared.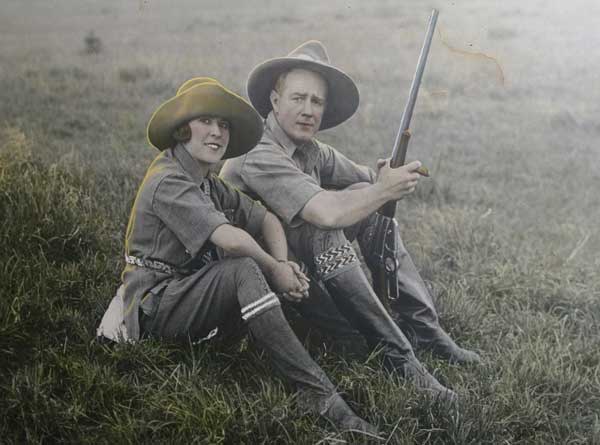 I have heard about the Johnsons for years and was excited to visit the Safari Museum in Chanute with my boys. We always call our Kansas travels "adventures." So, I told the boys we were going to learn about some people who really ran into the unusual in their lives - true adventurers.
We chose to start our tour upstairs in the room dedicated to the Johnson's story. The history of their journeys started with Martin running away from home at age 10. Osa started her adventuring when she married Martin at age 16. While I was trying to downplay their young ages to my nearly 8-year-old (making sure I didn't give him any ideas that running away was a good idea), I also wanted to show them how much fun it can be to live out your dreams - regardless of your age. They enjoyed the native instruments that said "please touch" and the stuffed animals used to illustrate some of the natural phenomenon the Johnsons encountered.
The museum is definitely set up for kids. Feel free to take yours there. They have a lot of hands-on features in the main gallery that allow kids to play with replicas of the tribal artifacts in the cases. There is also a scavenger hunt you should ask about at the front desk that allows kids to get involved in the story. The vast majority of the artifacts are safely behind cases. So, that helps make it less stressful for Mom and Dad, too. At the end they get a small prize if they find all of the items on the hunt. It's a great way to engage the kids in the idea of the Johnson's adventures.
The first floor gallery is dedicated to African culture. There are amazing masks and jewelry interpreted in a way that helped the kids (and me) understand the tribal beliefs and way of life. It is unexpected to have this museum dedicated to African heritage here in the heart of Kansas. Then again, Martin and Osa Johnson had an unexpected life. So perhaps that's what makes it a really must-see Kansas stop.
This month during the Museum's annual Safari Days on April 26 and 27, you can have a chance to visit the museum for FREE 1-5 p.m. Friday and 10 a.m. - 5 p.m. Saturday. The museum also hosts a Safari Film Festival that weekend. Check out their web site at www.safarimuseum.com for more information.

Karen Ridder is a freelance writer living in Topeka. A former News Producer for KSNW-TV in Wichita, her work can also been seen in print publications including: Topeka Magazine, TK Magazine and the Topeka Capital-Journal. She has written for several national blogs and was recently recognized as one of the 2011 winners in the Annual Kansas Factual Story Contest. Karen has lived in Kansas for 15 years and married a native Wichitan. Together they are raising three little sunflower boys and a dog named George.