I'm an old guy that loves cycling and rail trails. When I heard about Rush the Rails, and the chance to experience this event in one of Kansas' newest state parks, I was excited.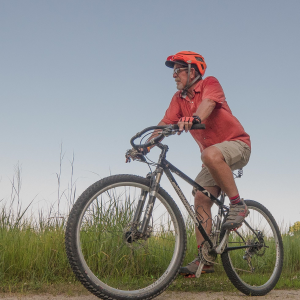 I'm a low-key endurance gravel rider. On my bike is my happy place – I was looking forward to 96-miles of Kansas gravel goodness, without cars or trucks, and with my tribe. 
There are an amazing variety of plants, trees, flowers and wildlife along the Flint Hills Trail State Park. As a rail trail, you see some reminders that trains once traveled this course and there are interesting bridges, rivers, creeks and streams along the way. You'll pass by, and through interesting little towns and small communities. The western side of the trail runs through the Flint Hills with views of farms, horses, cattle and a nearly endless horizon.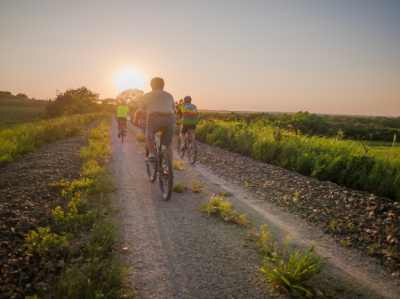 Which course should I ride?
If you rack up lots of bike miles on a regular basis, the 96-mile course might be your choice. If you cycle frequently, but not aggressively, consider the 54-mile course. Make it a long day on the bike and enjoy the effort. Only get out once a week or so for short rides? Do the 25-mile course.
What kind of bike do I need? 
The trail is newly developed, so the trail bed varies a bit in places. It is mostly chat, a small grained gravel, and pretty smooth rolling. But it is a gravel trail, not pavement.
I rode my gravel bike with wider tires. I think a gravel bike is ideal. A wider tired hybrid or mountain bike would also be good. You could ride a road bike with wider tires, but because of the gravel surface, that might not be your best option.
What gear do I need?
I started with a light jacket, bike shorts and a jersey, and of course, a helmet. As the day went on I ditched the jacket. I had two water bottles on the bike and a stash of energy gels and bars. But with four SAG stops (rest stops with beverages and snacks) along the way, I didn't carry a lot of supplies. It's always a good idea to ride with a headlight and taillight, but not required since this is a car-free trail.
Considerations.
Good news. The trail is pretty flat, so no hills to climb. Bad news, the trail is pretty flat, so no hills to coast down.
This is a point-to-point ride. That means that if you start at Pomona and ride to Council Grove, you're 54 miles from your car. There is a shuttle service for a fee, or find a friend that can take you back to your car.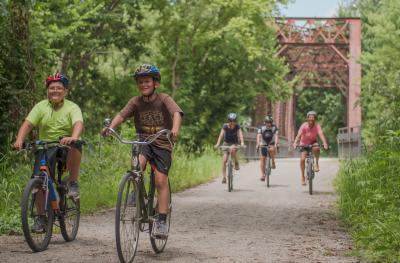 I rode with my gravel crew and we had a blast on the ride, at the SAGs and after the ride at the finish line celebration. But if you don't have a crew, I'm sure you'll find people on the ride that are moving at your pace and will make great company. I've made lots of new friends on bike rides.
We're riding the 54-miler this year, but next year I think I'll do a shorter distance with my grandsons. The event and trail are great for family riding with younger kids. No cars on the trail eliminates any anxiety I might have about traffic. Hope to see you on the Flint Hills Trail State Park!