Exiting my car parked in front of Roy's Hickory Pit BBQ in Hutchinson, I got a whiff of the tantalizing aroma of meat slowly smoking over hickory and my stomach quickly started to rumble. Fired up for Roy's mouthwatering meat topped with a mild and sweet sauce I remembered from a previous visit, I couldn't wait to sink my teeth into those succulent ribs once again. In fact, I purposely arrived early to avoid the potential long line of customers that sometimes extends out the bright red front door of the sunny yellow building during the lunch hour.[[endteaser]]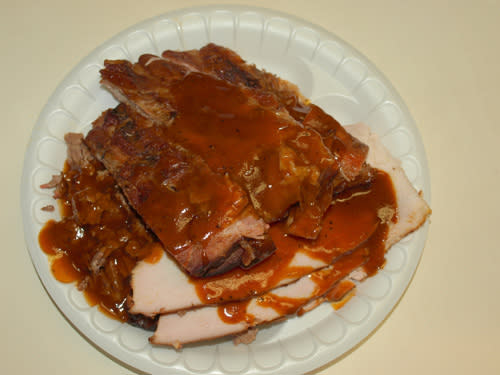 Inside I found a bubbly Anne Armstrong standing at the counter welcoming customers as though we were invited guests to dinner at her home. After the orders were swiftly filled Anne began meandering from table to table, using her quick sense of humor to cheerfully banter with the diners. Laughter filled the room, causing one patron who regularly eats here to lean over and tell me: "Anne is half the experience!".
The ribs were as thick, tender, juicy and delicious as I remembered. I also tried the beef brisket and sliced turkey this time with the turkey becoming my new favorite. Anne's late husband, Mike, sure knew what he was doing when he created his special barbecue sauce recipe, a secret concoction known only by Roy's pit master, Ryan Collum, who happens to be Anne's son.
Also on the menu are Polish sausage, ham, pork and links; the hot links, by the way, come highly recommended if you like extra spicy. You can order two meats on a sandwich or up to four meats on the dinner plate that includes slices of buttery Texas toast, sweet baked beans with a little bite to them, and a salad bar of cold sides such as macaroni salad, potato salad, pickles, cole slaw, and an Italian slaw with cabbage, green peppers and onion in a vinegar and oil base. There's no going away hungry here, you can pig out all you want! It's no wonder this family-owned establishment has been in business for 30 years!Roy's is only open from 11 a.m. until 3 p.m. – or until the meat runs out – so schedule lunch here between visiting two of my favorite places in Hutchinson, the Kansas Cosmosphere and Space Center and the Kansas Underground Salt Museum.
At what Kansas restaurant do you go whole hog over barbecue?
Cecilia Harris is a professional freelance writer from Abilene who enjoys discovering fascinating attractions, events and people that reflect the arts, culture and heritage found in Kansas. She has been a longtime regular contributor to KANSAS! magazine and also has written for such publications as Midwest Living, Sunflower Living, Kansas Heritage and The Greyhound Review to inspire others to explore and appreciate her home state. She also has authored two books, "Historic Homes of Abilene" and "Abilene's Carousel."