When I heard roller derby is the fastest growing women's sport in the world, my response was "Really???".  My disbelief stemmed from my childhood when I watched sports on television with my older brother and saw anything-goes roller derby where women brutally shoved each other so hard some skaters went flying over the wall surrounding the banked track. Had roller derby changed over the years? After discovering there are several women's roller derby teams in the state, I had to find out. So there I was, sitting at a Salina Sirens bout with Hubby. Happily, I skated away from the event with new enthusiasm for this action-packed competition. Here's what I learned about roller derby that changed my mind about the sport.[[endteaser]]
The first thing Hubby and I noticed was the track was flat and marked with tape and there was no wall to keep the skaters from going into the crowd. We chose seats a few rows back.
Once the action started, however, we realized there was nothing to fear. Rules prevent much of the violence of the past roller derby era. While there was an occasional whistle blown on a couple of girls who got a little too aggressive during the jostling, it was no different than a foul in basketball.  None of the hair pulling, bone-breaking shoves, fists thrown, or bad language I remembered from television way back when.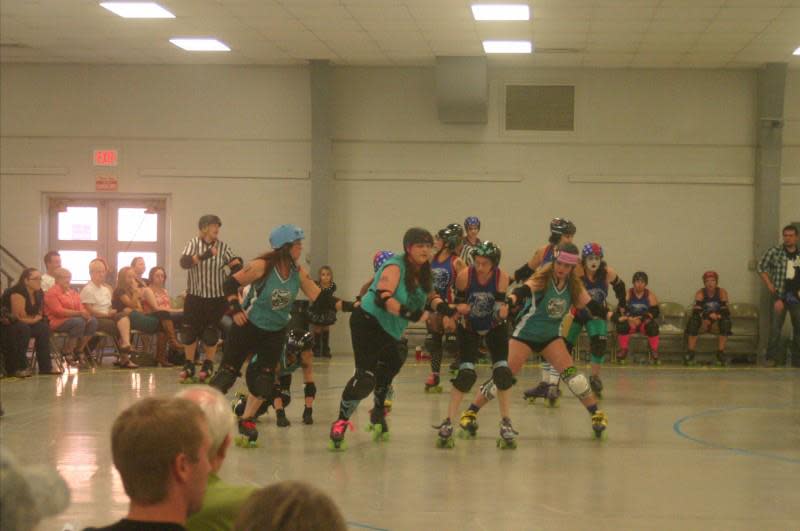 Don't get me wrong, the sport is still fast and furious, filled with speed, danger and exciting competition sparked by daring moves and great skating. Sporadically a maneuver sent a skater out of bounds, but considering how fast the women were traveling on those skates I was amazed how easily each recovered her balance, never coming even close to us fans along the sidelines. Why did I worry? I could have had a front row seat!
Rather than just the push-and-shove match I recalled, the fast-paced action was as full of strategy and pure athleticism as any other sport I've watched, and having three sons I've watched a lot of sports. Hubby said it had all the characteristics of non-tackle football...on skates.
These women, some of whom are nurses, child care providers and schoolteachers by profession, are highly competitive. Even from where I sat I could see the determination on their faces as each shift of five women battled for up to two minutes in each jam during the 30-minute half. I became enthralled watching the jammer try to score by lapping the opposing team members as the pivot called out plays and set the pace for the three blockers who used their bodies to clear the way for their jammer while keeping the rival jammer from scoring. I admired these blockers who have the tough job of performing double duty! 
Before long, I found myself cheering with the large crowd at the prowess of the quick and agile jammer known as Turtle Power as she sliced her way through the pack and hit the open track at full speed. But when one of the skaters did a crazy jump and fell hard right in front of us, the kid next to me (there were numerous families in attendance) and I both grimaced, and as our eyes met I think the boy and I both questioned whether the skater might be injured. We clapped our hands and offered words of encouragement as she slowly got up and rejoined the pack, with me thinking she has a lot of grit and surely will feel that fall the next day. Ouch!
The bout ended too soon. From the action on the track to the humor of the skaters' names (No El Paso and Antagonizeher were my favorites) to the half-time entertainment, it was a fun-filled night I won't soon forget.
Get in on the roller derby craze by watching one of these teams: 
Cecilia Harris is a professional freelance writer from Abilene who enjoys discovering fascinating attractions, events and people that reflect the arts, culture and heritage found in Kansas. She has been a longtime regular contributor to KANSAS! magazine and also has written for such publications as Midwest Living, Sunflower Living, Kansas Heritage and The Greyhound Review to inspire others to explore and appreciate her home state. She also has authored two books, "Historic Homes of Abilene" and "Abilene's Carousel."