Fondly known as "America's Pie Queen," 90-year-old Norma Grubb died in Topeka on March 28. For years Grubb worked at the Sommerset Hall Café in Dover, where a wedge of her signature coconut creme pie was named "America's Best Slice" by ABC's "Good Morning America" in 2008.[[endteaser]]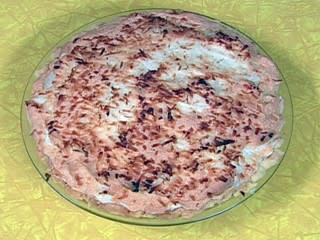 Try Grubb's winning recipe – then head to the historic café for fried chicken and more, plus photos of Dover's dedicated pie maker. Get directions and hours of operation.
3 cups of milk
3 egg yolks (save whites for meringue)
Sprinkle of salt
3/4 cup sugar
4 Tbsp. cornstarch
1 tsp. vanilla
Approximately 1/4 cup coconut flakes
Prepared pie crust:

Save out a little milk. Put the rest of the milk in a double boiler and heat. In a separate bowl, beat egg yolks. Mix in the milk you saved and salt. Add sugar and stir. Add cornstarch and beat. Stir mixture into hot milk. Cook on stovetop. Add vanilla and coconut. Put coconut cream filling in baked and cooled pie shell. Make meringue.
For meringue:

Beat egg whites until stiff. Add 2 Tbsp. sugar. Put on top of pie and sprinkle coconut on top. Put pie in 375° oven to brown meringue.