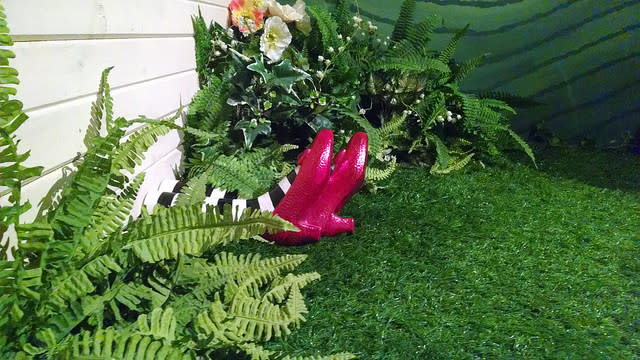 It's not often I get to steal away with my two high school BFFs for a weekend to reconnect and recharge. A weekend without kids and significant others means time for us to catch up, share stories, and celebrate with great food and shopping.
Whether your best girls prefer to bond over a great bottle of wine, take in a bit of Kansas history or shop for distinctive gifts, the northern Flint Hills Yellow Brick Road Trip is an ideal start. We began our own adventure at Mill Creek Antiques in Paxico. Located in a building from the 1880s, comfy chairs and beautifully blooming flowers lined the sidewalks. In addition to the tastefully-arranged spaces chockfull of interesting home furnishings and collectibles, the owner, Steve Hund, has been selling and restoring antique gas and wood cook stoves and heating stoves here for 41 years.  He shared some history about the first German occupants of the building and noted that parts of the building remain unchanged. My friend Beth was delighted to discover many long sought-after treasures – at reasonable prices. She found her perfect wire-framed ice cream table and matching chairs. Well-worn by years of family meals, the old dining room tables were our favorite finds. There were all shapes and sizes, but I selected a round one, perfect for conversation.

From Paxico, we headed to Manhattan to stroll the downtown - a destination shopping district with locally-owned eateries, unique galleries, and boutiques. We filled the fitting rooms with fashion finds from for*tu*ity and Envy. Both stores purchase items showcasing the latest trends, but in limited quantities. In addition to our own wardrobe updates, we chose fun items like socks and hair accessories to take as gifts for our little girls at home.

After our afternoon of high fashion, we sampled the latest flavors from Kansas State University's Call Hall Dairy Bar. Featuring over 30 ice cream flavors produced onsite by university animal science and industry students, Call Hall is an indulgence you won't want to miss.  I chose the "Purple Pride," a rich vanilla mixed with berries (and a bit of nostalgia for this KSU alumna).



After a visit to the Flint Hills Discovery Center,  we drove the Native Stone Byway, stopping at the Alma Creamery ("Home of the Famous Alma Cheese") to sample more local fare. In the cheese business since 1946, the Alma Creamery is one of the last in Kansas. We were given a short tour of the made-on-site offerings in their retail store. Marcie was expecting some international guests, and we agreed the creamery was the perfect place to build gift baskets. She chose a variety of cheeses including pepper jack, several different cheddars, and Colby Jack. (I reminded her that cheese curds are always a family favorite.) She also added other Kansas-made products like pie filling from Grandma Hoerner's and Paxico sausage.

And, not least, our travels took us to several area wineries specializing in wines made with Kansas-grown grapes. Kansas vintners are again benefiting from the rich soil that, before Prohibition, made Kansas one of the most popular wine-producing regions in the United States. Well situated for a wine-themed daytrip, the Prairie Fire Winery and Wyldewood Cellars tasting room in Paxico and the Oz Winery in downtown Wamego offer varied sampling options, special events and merchandise. We visited in June but decided it was prime time to do some Christmas shopping: a dry red for Marcie's sister, elderberry for my grandma's health, and several bottles of mulled wine for Christmas Eve.  Marcie finished off her gift baskets with some Kansas-inspired wine labels: Storm Chaser Red, Emerald City Lights, and the Prairie Sunshine.



This is just a glimpse into the adventures this Northern Flint Hills itinerary offers. Don't miss reading about other Yellow Brick Road Trip adventures at TravelKS.com.

Jessica is a teacher, librarian and mom who lives in Holton. She loves all things summertime: Gardening, lazy days at the lake, farmers' markets, and family vacations. Some of her favorite Kansas places include the Art Lab at Washburn University, the Topeka Shawnee County Public Library, the Konza Prairie and Main Street in Newton.