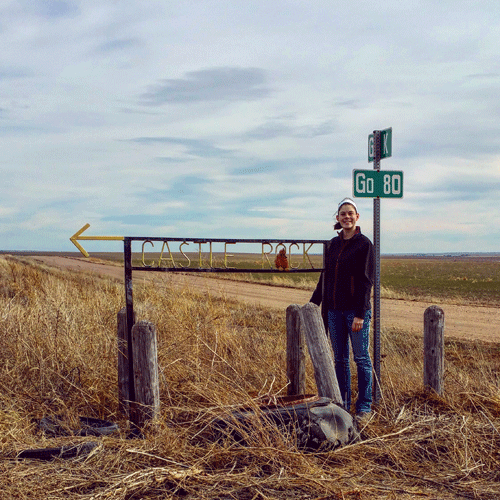 From gorgeous waterfalls to rolling hills, steep cliffs to towering pillars of rock rising above the plains, Kansas has far more to offer than many expect. It is a place where one could explore its boundaries all their lives and still not discover all of its hidden treasures. We are BabcoAdventures, fearless adventurers, and Kansas is our playground. We've explored a lot of the state we call home so we could share our experience with world. 
The first place we would like to feature in our crusade goes by the name of Castle Rock. If you were like us and hadn't seen pictures of this monument before visiting it than you are lucky because driving around the bend and seeing it for the first time in person was captivating. It becomes quite apparent how the name Castle Rock originated once you see the great pillars rising out of the plains, standing proudly even after years of heavy weathering. If photography is up your alley this is definitely a good place to visit with Castle Rock, the western plains, and the sky working together to create a scene that will keep you coming back.
Now don't worry, we aren't suggesting a trip to western Kansas just for some awesome pictures of ancient sea chalk, it's what lies directly south of Castle Rock that will seal the deal for this location. If one were to continue driving south from Castle Rock they would drive into what I believe is one of the most awe inspiring features in Kansas, it's called the Badlands of Kansas. Here we spent hours exploring canyons and small caves within the badlands and found more fossils than we had ever seen in one place before. Half of our team are geologist, myself included, so it's safe to say that we were tickled to death that we found this place. One of the great things about Castle Rock and the badlands is that every time we visit we are usually the only ones there so the first time you arrive you feel like you discovered all of it yourself! Pack a lunch, bring a camera, and free up a whole day if you plan to visit because we lost track of time while we were exploring the badlands the first time. 
Once we hiked and explored the area to our hearts desire we took our crusade west to Scott County to camp for the night. Now let me be the first to say that if you have not camped at Scott Lake State Park before, you need to put it on your bucket list of things to do! It is unlike any other state park in Kansas featuring some of the most unique hills in the state that I believe rival the Flint Hills, an old Indian Pueblo, and not far from the entrance gate an Indian battlefield. By far one of the most interesting state parks we have visited in Kansas. 
BabcoAdventures would like you to keep in mind that both Castle Rock and the badlands are on private property and even though the owners welcome visitors we encourage people to respect the land by leaving nothing behind as well as take nothing from the property. Also keep in mind that the rocks that make up the badlands are chalky limestone and are quite soft. Climbing on weak spots could cause erosion or injury. Be safe and of course… Have a blast!