A Faces & Places Roadie Blog
Driving through the hills on Highway 283 on a perfect July morning, air conditioner blasting away the early heat, sunglasses perched on my nose, it was impossible not to be taken in by the rare beauty of the Smoky River Valley. While somehow managing to be inviting and foreboding at the same time, the landscape made me feel small, not unlike the feeling of standing beside the ocean or a busy sidewalk in New York. On this day, my husband, kids and I headed toward the unincorporated town of Nicodemus, Kansas, to attend the 134th annual Homecoming and Emancipation Celebration.[[endteaser]]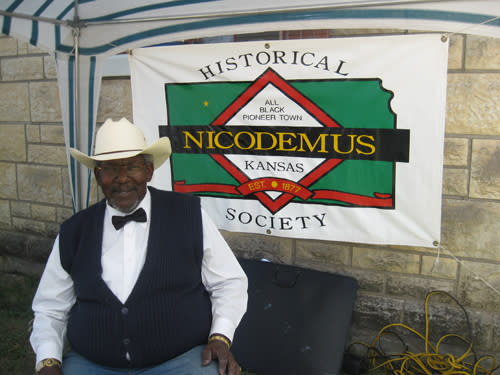 Named for a legendary slave who bought his freedom, the town was settled by a group of freed slaves from Kentucky following the Civil War. During the Reconstruction Period, many blacks suffered under Jim Crow laws and were unable to obtain the personal or financial freedoms promised through emancipation. The lure of cheap land along the Solomon River and the opportunity to create an all-black community prompted hopeful settlers to Nicodemus, oftentimes called, "The Promised Land on the Solomon."
The Homecoming Celebration tradition began in 1877. Held annually the last weekend in July, the festivities draw descendants of the original Nicodemus settlers from across the United States back to their Kansas roots. Imagine a big family reunion in the middle of the Kansas prairie:
Groups gathering for photos, people remembering aunts or cousins who were unable to attend, relatives hugging and relaying and a year's worth of stories. People lingered throughout the afternoon leisurely taking in the scheduled entertainment or just sipping lemonade under the shade trees.
My time in Nicodemus was a living history lesson. Mr. James Bates, father to local historian Angela Bates-Tompkins, told me his family homesteaded just a mile or so to the north. Alfonso Dabney told stories of growing up with his grandmother in Nicodemus. His grandfather was blind, he said, but worked as a cook for the cowboys and grew a big garden. He spent summer playing ball and sung in the local church choir.
The railroad tracks, essential to sustain economic growth, bypassed the town of Nicodemus, and many merchants were forced to relocate. Its population, once nearly 700, has now dwindled to around 40. But during this 134th Homecoming Celebration, there was an attitude of optimism. Indeed, interest in the town continues to grow and preservation efforts are gaining momentum. In 1996, the site became part of the National Parks System. Most recently, Nicodemus was selected to be part of the "Parks for the People" competition where university students across the U.S. work to reimagine national public parks and spaces.
All the stories I collected bespoke a proud heritage and determination to keep the spirit of Nicodemus alive. Today, Nicodemus remains a symbol of those courageous African-American men and women who left the familiar to seek their fortunes in an unforgiving land. It symbolizes the African-American role in the settlement of the Great Plains. Some of those I met still live in Nicodemus; many were two or three generations removed. Yet, everyone at the celebration shared a similar pride for this unique town so important to Kansas history - and an earnest desire to preserve its cultural legacy.

Jessica is a teacher, librarian and mom who lives in Holton. She loves all things summertime: Gardening, lazy days at the lake, farmers' markets, and family vacations. Some of her favorite Kansas places include the Art Lab at Washburn University, the Topeka Shawnee County Public Library, the Konza Prairie and Main Street in Newton. She joined the 2012 Faces & Places Tour because it is an exciting opportunity to explore and write about her home state – and drive a really cool van.