Beef production in Kansas is big - cattle represented almost half of the agricultural cash receipts in 2010 and Kansas ranks third in the nation with 6.1 million cattle on ranches and feedyards. That's more than twice our state's human population! Our family saw a good many of these bovine beauties on a recent trip to western Kansas, where we sampled some Kansas beef at Plank's Barbecue in Garden City.[[endteaser]]
The beef industry is strong in this community. Garden City's economy is energized by cattle ranches, feedlots, packing plants and related businesses. Ehresman Packing Company has been operating in Garden City since 1964. Velda Ehresman Plankenhorn began working for her parents, who owned the plant, at the age of 13. She later married Mike Plankenhorn, who began working at Ehresman in 1982. Ten years later, the Plankenhorns bought the packing company. Mike had always wanted to open a restaurant so the family took the plunge and opened Plank's Barbecue adjacent to the plant in 2002. Mike and Velda's son, Josh, now manages the restaurant with a little help from Mom and Dad. Thanks to their meat company "connections," Plank's offers locally raised beef, butchered and trimmed on site and cooked to perfection in a rotisserie smoker.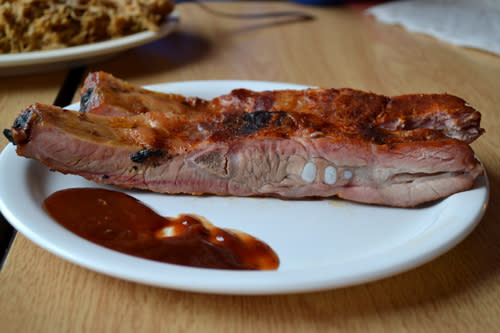 When we pulled up to Plank's we immediately noticed the aroma of good barbecue. Decorated with fun Americana décor, the atmosphere is very casual and welcoming. We were greeted instantly and seated near the large windows that look out on to Garden City's busy Fulton Street.
The menu at Plank's isn't quite your typical barbecue fare. You can certainly find a selection of smoked favorites such as ribs, pulled pork, chicken, beef brisket and sausage. But what got our attention were south of the border entrees such as fajitas, burritos and burrito bowls, tacos, and a Mexican torta - your choice of beef brisket or pulled pork with lettuce, tomato, onion and avocado on a bun. The K.C. tacos feature grilled and sliced K.C. strip steaks, grilled onion, cheese and salsa. These menu offerings pay honor to Garden City's rich Hispanic and beef industry heritages. And as an added service, every member of the restaurant staff speaks English and Spanish.     
Despite these temptations, our taste buds had been looking forward to ribs and brisket all day. Hubby tried the three-meat dinner (ribs, pork and brisket). For his sides he chose "potato spuds," a sort of fried mashed potato bite, and onion rings. The plate was heaped with the trio of smoked meats, and thanks to the generous portions, I was offered a taste of everything. The ribs had a beautiful rosy smoke ring that penetrated deep into the meat and flavor to boot. The barbecue at Plank's is served without sauce, and we had fun experimenting with different mixtures of their sweet sauce, with a savory hickory flavor and just a hint of tartness, and the spicy, which gets its heat from vinegar.
I ordered the Plank's Brovo, featuring perfectly smoked, tender beef brisket on a toasted bun, topped with sweet barbecue sauce, melty smooth provolone, and tender grilled onions. But one of the best parts of the sandwich was the four thinly sliced, battered and fried pickles atop of the sandwich. I'll admit - these crunchy coins of deliciousness were the reason I ordered the Brovo, and I was not disappointed!
While in Garden City, we recommend taking the time to explore the Lee Richardson Zoo, the "Big Pool" (a Kansas Sampler Foundation 8 Wonders of Kansas Customs finalist), and the Finney County Historical Museum. These treasures are located all together in Finnup  Park - featuring many shelters, tables and benches. So grab your Plank's to go and plan a picnic!
My tips and picks for Plank's Barbecue:
plan ahead, this diner is closed on Sundays
order the rib dinner with onion rings on the side

Teresa Jenkins is all business during the week, but on the weekends, she, her husband and 11-year old son enjoy loading up the car and hitting the Kansas byways in search of good food and the great people who prepare and serve it. Her favorite cuisines are Mexican, Italian, and "anything with flavor!"