I get pretty fired up about eating at a family-owned barbecue restaurant with one-of-a-kind flavors. So when I entered Zarda Bar-B-Q in Lenexa and learned there are 24 – yes 24 – secret herbs and spices in Zarda's zesty Original barbecue sauce that is constantly glazed over the beef briskets, ribs and pork as the meat slowly smokes over hickory, well, let's just say I was in hog heaven. [[endteaser]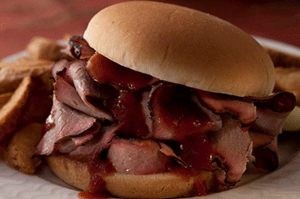 I easily could have pigged-out on the ribs and the brisket without adding any barbecue sauce on top because each bite was bursting with a rich, savory flavor of its own. But since brothers Steve, Mike and Jerry Zarda – who opened the joint in 1979 - developed the recipes for five unique barbecue sauces, I just had to sample each one. My favorite was the Sweet Hickory, flavored with brown sugar and molasses, while hubby went hog-wild over Bold and Spicy which turns up the heat.
One of the sides for which Zarda customers go whole hog is Grandma Lucy Zarda's recipe for the Bar-B-Q Beans with chunks of beef and onions and a wonderful smoky flavor. Another favorite side is the Sweet Vinegar and Oil Cole Slaw flavored with dill seed and shredded carrots, another family recipe. Sweet yet zesty, it goes great with barbecue, as did my Cheezy Corn; hubby favored the potato salad.
Zarda's rustic atmosphere is casual and family-friendly, but if you're having a hectic day, there's always the drive-thru to make life a little easier!
Do you have a favorite barbecue restaurant?

I cooked up the idea of making a career combining my love for writing, eating, and traveling after my sons were born. I grilled my friends living in other parts of the state about their favorite restaurants, and some of those establishments eventually became the topic of my Historic Restaurant series, and later the Tastes column, published in KANSAS! magazine. I simply enjoy the adventure of discovering great food found at unique restaurants, small-town grocery stores, and farm-based processors throughout Kansas, and then sharing what I've learned with you.