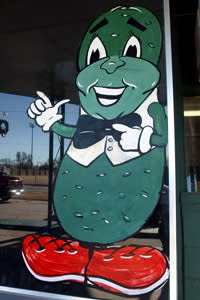 With a grin on his face, a gigantic green pickle dressed in a vest, bow tie, and red shoes peers from the window of The Chubby Pickle in Phillipsburg, lifting the spirits of those who are in a pickle or just need a cure for the summer doldrums. Known for its hamburgers and sandwiches, the restaurant also serves up favorites like Breaded Pickle Chips, Toasted Almond Salad, and homemade Spicy Pepper Rice Soup.[[endteaser]]
Owner Janice Patterson opened The Chubby Pickle, a name suggested by her brother-in-law, over 20 years ago in a former gas station now painted pickle green. Inside, blue and white checkered curtains and an abundance of green plants provide a homey atmosphere. Signature animated chubby pickle caricatures hold menus on the walls and also adorn t-shirts you can purchase. 
I bypassed the daily special, a baked potato topped with broccoli and cheese, or chili and cheddar, or sour cream and butter, or sour cream, butter and cheddar… Obviously, you get plenty of choices here, and the menu itself is extensive. I ordered the Little Chubby hamburger and potato salad. My burger was topped with ketchup, mustard, onion and a generous amount of – you guessed it – pickle slices. The creamy potato salad was served in a glass coffee cup, a nice touch. I also sampled a customer favorite, Spicy Pepper Rice Soup made from Janice's homemade recipe that simmers rice, ground beef, green peppers, tomatoes, onion and spices in a tomato broth. Delicious! And there's cheesecake for dessert!
If you continued the customer tradition of taking your picture next to that painted giant plump pickle in the front window, then please post your photo here so we can all see your smiling faces at The Chubby Pickle!
Cecilia Harris is a professional freelance writer from Abilene who enjoys discovering fascinating attractions, events and people that reflect the arts, culture and heritage found in Kansas. She has been a longtime regular contributor to KANSAS! magazine and also has written for such publications as Midwest Living, Sunflower Living, Kansas Heritage and The Greyhound Review to inspire others to explore and appreciate her home state. She also has authored two books, "Historic Homes of Abilene" and "Abilene's Carousel."