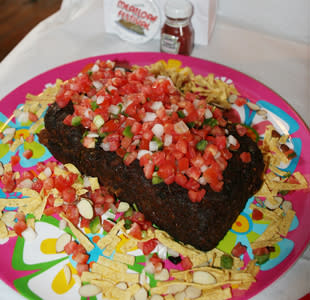 There's plenty of chili cookoffs and barbecue competitions throughout Kansas, but as far as I know there's only one Meatloaf Festival. And no, this event is not about the famous hard rock musician named Meat Loaf I listened to in college. Held in Paxico, the festival named for one of our favorite comfort foods features a parade, car show, music, children's activities and, of course, the Meatloaf Cookoff as the highlight of the day. [[endteaser]]
Peg Winkler, president of the Paxico Merchants Organization, says a friendly rivalry several years ago between two restaurants both claiming to have the best meatloaf in this small, historic town stirred the idea to honor the classic fare. Although the two cafés have since closed, the Meatloaf Festival will celebrate it's fourth year from 10 a.m. to 5 p.m. on June 30. Only judges sample the entries in Woodman Hall, but a meatloaf dinner is part of the festival plans.
Meatloaf Cookoff judges base their decision on flavor, texture, and appearance. WenDee Rowe LaPlant, assistant director of the Kansas Sampler Foundation, judged last year and says this culinary contest "brings meatloaf to a whole new level."  She recalls one recipe that includes pork, beef and caramelized onion, and another that was a smoked meatloaf as among her favorites.
What surprised her the most, however, was the amount of effort put into the presentation of the entrees, turning somewhat mundane-looking meatloaf into works of art. Now that I would like to see.
Thinking about entering the Paxico Meatloaf Cookoff? You can get more information or an entry form here and return with the fee by June 25. I won't be competing because my son informed me the other day he's never liked my meatloaf. Needless to say, I'm looking for a new version! Please help me out and post your favorite meatloaf recipe here and include what city you're from. I'd love to get meatloaf recipes from every part of the state!
Cecilia Harris is a professional freelance writer from Abilene who enjoys discovering fascinating attractions, events and people that reflect the arts, culture and heritage found in Kansas. She has been a longtime regular contributor to KANSAS! magazine and also has written for such publications as Midwest Living, Sunflower Living, Kansas Heritage and The Greyhound Review to inspire others to explore and appreciate her home state. She also has authored two books, "Historic Homes of Abilene" and "Abilene's Carousel."