One of the best times of the year for fishing in Kansas is in the spring, right in the middle of the crappie spawning season. As the weather starts warming up and the fields start to turn green, the crappie start moving closer to shore making fishing on Kansas lakes a dream come true.[[endteaser]]
The crappie spawn makes for great fishing for both shore and boat anglers. You'll most likely find crappie in shallow water near areas of vegetation or with lots of brush or cover. With fish most active at dusk or dawn, you'll find anglers using colorful jigs, spinners and spoons. Minnows are another great option but usually more effective during cooler weather. Crappie can be found all across Kansas and throughout the continental United States.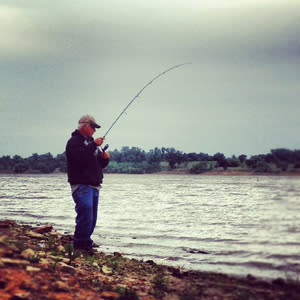 Since I was a young girl some of my best memories of spring were sitting on the shores of a lake with my Dad and uncles and fishing for crappie. Of course, being kids, the attention spans were short so we would find plenty of bruises and scrapes climbing on the rocky shore, exploring in the sand, and just enjoying whatever the Kansas lakes had to offer. As we got older, the fishing became a competition...who could catch the most or who caught the biggest fish.
This spring I took my daughter fishing for the very first time. It was an opportunity to pass on an amazing tradition and create new memories for the entire family. Kansas lakes offer an abundance of fishing opportunities and activities, but the spring crappie spawn is one season you don't want to miss!
Photos courtesy of Jennie Reichert, Miles Morton and Elizabeth Peterson.

Elizabeth Peterson is a lifetime resident of Kansas, an avid outdoorswoman, and a new mom. She spends her free time in the great outdoors, hunting and fishing, and writing about her life and passions on her personal blog DeerPassion. You can also find her on Twitter, @DeerPassion.