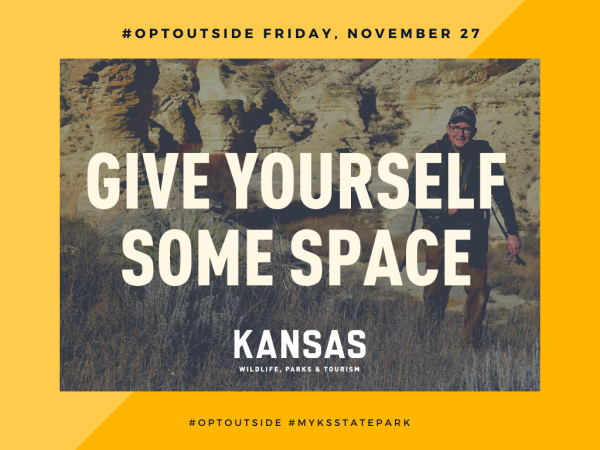 One of the (few) gifts that 2020 has brought us is extending Black Friday sales to multiple days and online specials, so if you aren't spending your morning on November 30 in a crowded line… What do you do? Easy, #OptOutside at a Kansas State Park!
All Kansas State Parks are waiving their entry fees, and you may even win yourself a FREE night's stay in a state park cabin of your choice. The details for submitting an entry for the giveaway are at the bottom of this blog. Whether you want a leisurely stroll along an easy-to-navigate trail, you want an adventurous mountain bike experience, or you just want to see another part of the Sunflower State that you haven't explored, there's a Kansas State Park just for you.
While this movement originally started with the retailer REI as a way to encourage employees and customers to explore the outdoors, it's evolved into a movement to move away from the hustle and bustle of Black Friday and to give yourself some space in nature.
In addition, some state parks have started some special #OptOutside programming that you and your family will love.
Meade State Park is offering additional opportunities to win outdoor-related prizes! Visit Meade State Park on Black Friday weekend (Nov. 27-29) and send us a photo of you and/or your friends/family participating in an outdoor recreational activity. You will then be entered into a drawing for an outdoor prize pack. Qualifying activities include, fishing, picnicking, hiking, playing disc golf, kayaking, camping, etc.
Completing each activity earns you one entry into the drawing. (Example: Picnicking, fishing, and catching a fish = three entries). The maximum possible number of entries per person is 10 (for 10 total activities). Only one entry is allowed per activity.
To enter, send your photos to Meade State Park through Facebook Messenger, by posting on the "#OptOutside at Meade State Park" events page or email us at kdwpt.meadesp@ks.gov.
Only entries submitted from Nov. 27-30 will be counted. Winners will be announced and contacted the following week.
Tuttle Creek State Park is hosting the Tuttle Treasure Trail starting Friday, November 27 as part of #optoutside.  Treasures will be hidden on each of 7 State Park Trails.  Western Heritage, Cottonwood, Canyon, Cedar Ridge, Randolph, Fancy Creek, Eagle Pass. Clues will be given once each day on the Tuttle Creek State Park Facebook until the treasure is found.
Once treasure is found pick it up, take a selfie with it and bring it to State Park office Mon-Fri. 8AM - 4:30 PM to Redeem for Prize.Post selfie with #optoutside and #TuttleCreekSP. Prizes are pre-assigned to the treasure, only one treasure per person. Vehicle permits NOT REQUIRED ON FRIDAY, NOVEMBER 27, but do apply for any other day.
Prizes won't compete with the lottery Mega Millions, but it will be fun. Typically range in the $10-$30 range.No cash prizes awarded. So plan on coming to the park, get some exercise and avoid the big shopping crowds.
#OptOutside participants are encouraged to shoot a selfie while in the park and post it with #OptOutside and #MyKSStatePark that day for the chance at the FREE cabin stay.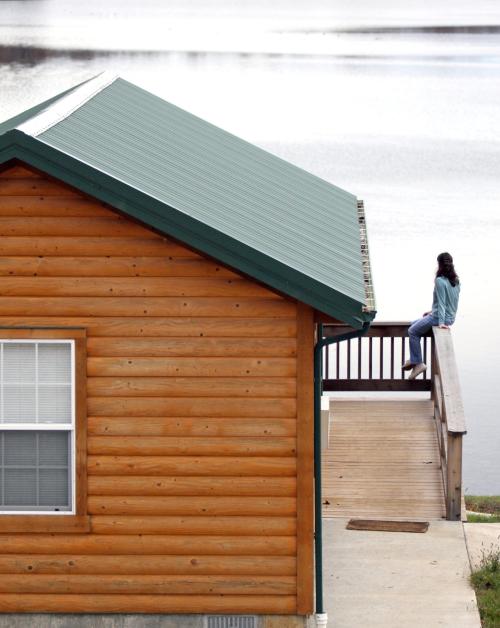 The 2019 #OptOutside at #MyKSStatePark winner by Christina Grollmes Bartlett!