As alfresco dining continues to grow in popularity, I'm reminded of a form of outdoor dining I've been enjoying since I was a kid - the drive-in. I live near one of these old-fashioned eating establishments, and now that the weather's warmer I'm a frequent visitor to
Kuntz's Drive-In
in Abilene. Music from the 1950s and 1960s plays as I enjoy the breeze coming through the open windows of my car parked in one of the dozen or so stalls under a low awning. A car hop takes my order: a Fat Lady Burger and a frosty mug of homemade root beer. And lots of napkins please. [[endteaser]]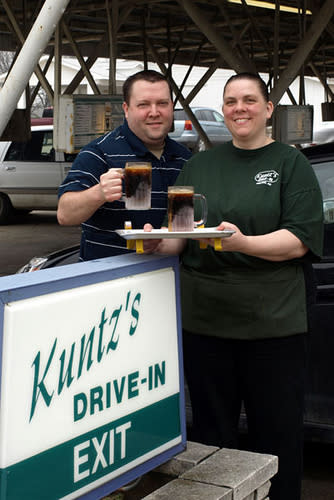 Drive-ins began in the early 1950s when a burger, shake and fries became an American classic people wanted to eat in a parked car to save time. Kuntz's, a drive-in for nearly 55 years, offers a blast-from-the-past atmosphere. Here, there are no buttons to push or speakers through which to place orders. A car hop actually comes to your vehicle and asks what you'd like, then delivers it on a tray that hangs from your partially-rolled up window while you eat - just like in the old days. And if the weather is just too cool for comfort, you can step inside Kuntz's and sit at one of the 10 bar stools.

My Fat Lady Burger consists of two hamburger patties, ketchup, mustard, pickles, onions, and a homemade rich-and-sweet-yet-tangy chili sauce; hence, the need for several napkins. All burgers are made with fresh Angus ground beef pattied by hand every morning, and most are topped with a special secret sauce that has been handed down from owner to owner. Customers favor the Patty Melt, Double Mushroom and Swiss Burger, Steak Strips, and Chicken Fingers. And for a special treat? A root beer float, chocolate shake, an orange or root beer Frosty (real ice cream blended with soda), or a Tornado (real ice cream blended with bits of candy bars).

Is there an old-fashioned drive-in in your community?



I cooked up the idea of making a career combining my love for writing, eating, and traveling after my sons were born. I grilled my friends living in other parts of the state about their favorite restaurants, and some of those establishments eventually became the topic of my Historic Restaurant series, and later the Tastes column, published in KANSAS! magazine. I simply enjoy the adventure of discovering great food found at unique restaurants, small-town grocery stores, and farm-based processors throughout Kansas, and then sharing what I've learned with you.