Dorothy might not have been from Wamego, but the town has claimed her as its own. There you will find the Oz Museum. It has become a great place to visit for anyone with a love of the 1939 classic movie or the fairy tales written by Frank Baum that inspired it. Since opening in 2003, the museum has grown in popularity to attract nearly 30,000 visitors a year.[[endteaser]]
This very nice stop has nearly 2,000 artifacts from over 100 years of Wizard of Oz history. It covers the early years of Frank Baum and his books, including much about the story that may be unfamiliar to those who love Oz just because of the movie. You can watch an early silent movie version of the story, and trace the evolution of the characters we know and love.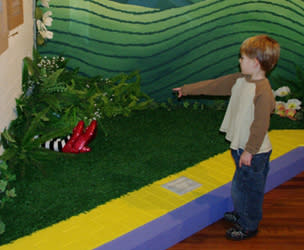 My favorite artifacts were two flying monkey props from the movie. It was a great relief to see they were only about 5 inches tall. My son enjoyed the haunted forest, where I taught him how to appropriately perform, "Lions and Tigers and Bears… oh, my!" He is only three, but found the museum very fun. He was fascinated by life size characters that replicate the movie favorites: Dorothy, Scarecrow, Tin Man, Cowardly Lion, Wicked Witch of the West and even the Good Witch Glinda. It was a bit of a trick to explain to him why the Wicked Witch of the East's feet were sticking out from underneath a house and how someone else ended up with her shoes. I found myself saying, "No, they couldn't just lift the house off of her… "
In the middle of the museum you find a small theater where the Wizard of Oz movie plays on a continuous cycle. So, you can sit and enjoy it for as long as you like. While this museum is small enough, and bright enough, for a child to enjoy, an adult interested in the artifacts might find themselves spending quite a bit of time browsing through the display cases. I would recommend allotting 30 minutes or slightly more for a family (depending on how long you stop to see the movie). Or, if you are a real fan, plan an hour to visit. They also have a great gift shop with all sorts of cool Wizard of Oz items.
While you are in town, you will notice how much Wamego has really embraced the Oz identity. For instance, you can grab a bite to eat at the nearby Toto's Tacoz or go down the street for a tasting at the Oz Winery. Several other stores in the downtown also feature Wizard of Oz themes and a short yellow brick road is available to walk.When you are done with Oz, don't miss the city's nice park that features a Dutch Windmill and Museum which are also worth a stop.

Karen Ridder is a freelance writer living in Topeka. A former News Producer for KSNW-TV in Wichita, her work can also been seen in print publications including: Topeka Magazine, TK Magazine and the Topeka Capital-Journal. She has written for several national blogs and was recently recognized as one of the 2011 winners in the Annual Kansas Factual Story Contest. Karen has lived in Kansas for 15 years and married a native Wichitan. Together they are raising two little sunflower boys and a dog named George.