I am the first person to proclaim that there is more to do in Kansas than the average visitor (or resident) is aware of. Such is the case with the Sand Hills in Syracuse.
Here the Syracuse Sand Dunes play host to off-roading enthusiasts who bring their ATVs, dune buggies and 4-wheel drive, roll cage-protected powerhouses to take a spin in the 1,300-acre park. 
According to city employees Linda Dinkel and Kevin Lee, the city bought grounds which include a 40-arce fishing pond, to obtain water rights and protect local water sources. "It seemed a natural fit to do something that would give the local clients a place to ride and to draw in tourism from outside the area," they say.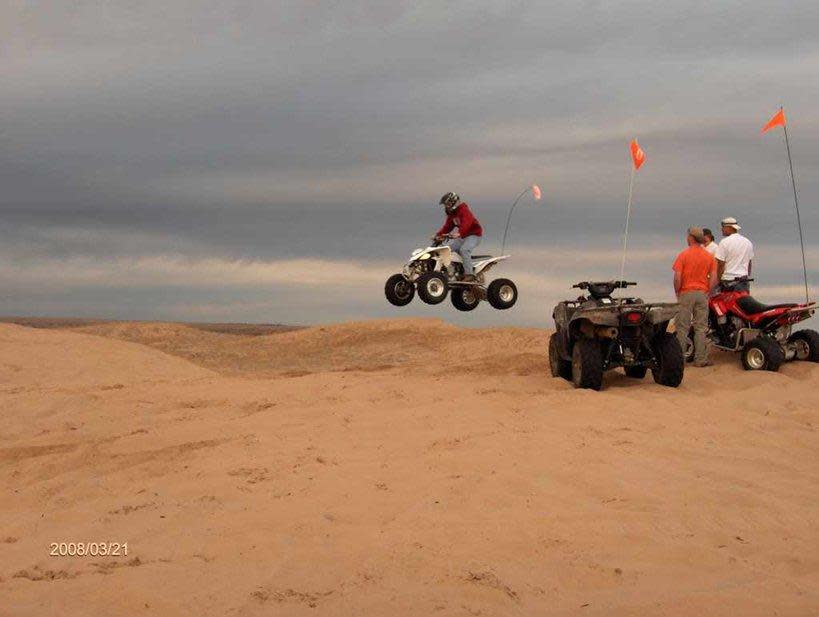 Despite not having an ATV, this adventure blogger was on a quest to learn more and begin planning her trip west to play in the sand.
Tell us all about off roading at the Syracuse Sand Dunes park, do you need your own off road vehicle/ATV?
People drive Jeeps, Suburbans, Scouts, pickups, Rangers, Razors, sandrails, any ATV/ORV or 4-wheel drive that can navigate the sand. Riders under the age of 18 must have a helmet, flags are required on each vehicle and the tip of the flag whip must be a least 10 feet from the ground. There are trails all the way around the 1,300-acre park and a drag strip is located in the center of the park! 
What will visitor find about the Sand Hills landscape? 
The sand dunes are constantly changing with the Western Kansas weather. Sagebrush and native grass are the natural cover for sand hills along the Arkansas River; the Sand Park is now about 60 percent open sand.
What about beginners?
This is a great place for families and a great place for beginners to learn, yet still challenging for the more experienced riders. We have great sunrises and sunsets in the Western Kansas Sky, which means the park is a wonderful place to watch meteor showers. A lot of our riders enjoy the park at night, especially in the summer.
What activities/ amenities are offered at the Syracuse Sand Dunes park? 
We have a fishing pond, the Kansas Department of Wildlife, Parks and Tourism stocks the pond several times a year. We have eight RV hook ups with water and electricity and several places for dry camping; bathrooms with showers are open from early spring to late fall. Several barbecue grills, picnic tables, a covered picnic area and a storm shelter are available for campers.
What will visitors be surprised to learn?
I think that people would be surprised to learn how beautiful the landscape is here and how friendly every one is.
What activities are available in Syracuse? 
In Syracuse we have the local swimming pool open from the end of May to Labor Day, the Northrup Theater has a movie on Friday, Saturday and Sunday evening starting at 7 p.m. (Mountain Time). The Prairie Lanes Bowling Alley is open during the fall and winter and Friday nights in the summer. 
There are many places to eat in Syracuse: the Ramble N-Restaurant, Pizzaria, Subway, KC's Restaurant, Vicky's Kitchen and coming soon Porky's Parlor. For those traveling from far away, the local airport is a great asset to our community.
What do you enjoy most about the park?
The park has been a great addition to our community and we're continually surprised at its use.

Katy Ibsen is a writer and editor living in Lawrence. When she's not blogging, writing or serving her community, she's embarking on the outdoor life among Kansas' picturesque landscape.